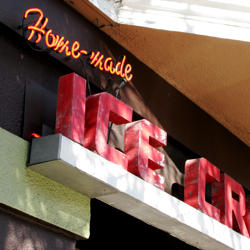 What do you do when one of your favorite foodies comes to town, and specifically mentions wanting to stroll through The Mission? Why, you plan an itinerary that takes you past some of the neighborhood's favorite places to buy delicious treats!
After shopping our way through the Ferry Plaza Farmers Market together, we left Laura to explore on her own for a few hours. (We hit Rainbow Grocery for a few staples, then headed home to put our perishables in the fridge.) We met up at high noon at 16th Street BART. Seeing as how it had been ages since we stuffed ourselves with Mexican breakfast at Primavera, we decided a traditional San Francisco burrito was in order. We stopped at Taqueria El Castillito — an old favorite, but definitely not local, sustainable, or organic in any way — and fortified ourselves with burritos and a torta, and a few bottles of Mexican cane-sugar sodas.
Back out into the bright sunshine — it's always sunny in The Mission, but Saturday was unseasonably hot — we trekked down Mission to 18th. Trying to keep to the shady side of the street, we pointed out the retaurant row that is 18th and Guerrero (Farina, Tartine Bakery, Delfina, and Pizzeria Delfina) but did not stop to join the monster queues. We'd really just planned to peek into Bi-Rite Creamery, but the short line — full of surprisingly happy 'No on 8' protesters — and list of fabulous flavors tempted us. We couldn't let Laura leave San Francisco without a taste of the famous Salted Caramel ice cream, could we? (Cameron also sampled the malted vanilla with peanut brittle, just to make sure we'd covered all the bases.)
Across the street, Bi-Rite Market was sampling their Thanksgiving offerings from a catering station on the sidewalk. We smelled the heavenly aromas, but couldn't even consider a nibble. We pressed inside the store along with everyone else in the entire neightborhood, taking a peek at all the fabulous local produce and the justifiably famous deli case. (I still don't understand how Sean and DPaul lived around the corner for years without weighing 300 pounds. I'd never cook!)
Backtracking to Valencia Street, we strolled past Range — where we'd enjoyed a fabulous dinner the previous night — and popped into Lucca, one of the last remaining vestiges of the Mission's Italian heritage. We browsed the aisles, admiring the terrific assortment of goodies, then headed back out into the street. I think I always knew that Lucca makes their ravioli on the premises, even noted the minuscule factory visible through the picture window along Valencia, but I'd never timed it right to see the process in action until this week. We stood with our noses pressed to the glass for what must have been half an hour, watching as a pair of flour-dusted pasta makers heaved giant wads of dough through an industrial sheeter, then picked them up like so much dirty laundry and magically unfolded them along a table the size of most San Francisco living rooms. (I could descibe the whole process, but Laura's slideshow does a much better job.)
We picked up the pace and continued down Valencia to 23rd, then down Mission to 24th. After a quick stroll through the Mexican produce stalls and flower shops, we stopped into Philz to let Cameron caffeinate himself with a fine Turkish-style fiter-drip blend, while Laura and I rested our eyes and feet in the cool, dim surroundings.
Our last stop took us to a rendezvous with some of our fellow bloggers at Mission Pie. We were nearly stuffed, but somehow made room to share a slice of double-crust apple pie and another of pear-raspberry galette. When Jen arrived, she showed us the error of our ways, generously offering nibbles of the godly walnut pie (with a gooey center like pecan pie); I now understand why people drive across town to buy a slice. We sat at a big table together in the now-waning afternoon sun, marveling at all the shop's gorgeous, quirky details — a map of the farms that sell their produce to the pie-makers, a collection of antique egg scales, and some of the coolest light fixtures in the city — chatting about everything from Yves St. Laurent to antique tractors to …well, food, of course.
If we'd only had an extra stomach, we could have kept walking all day.
Taqueria El Castillito
2092 Mission Street (x17th)
San Francisco, CA 94110
415.621.3428
Bi-Rite Creamery
3692 18th Street (x Dolores)
San Francisco, CA 94110
415.626.5600
Bi-Rite Market
3639 18th Street (x Dolores/Guerrero)
San Francisco CA 94110
415.241.9760
Lucca Ravioli Company
1100 Valencia Street (x 22nd)
San Francisco, CA 94110
415.647.5581
Philz Coffee
3101 24th Street (x Folsom)
San Francisco, CA 94110
415.875.9370
Mission Pie
2901 Mission Street (x 25th)
San Francisco, CA 94110
415.282.4PIE