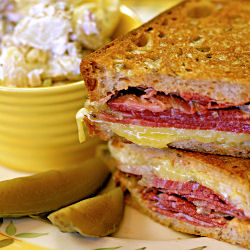 There's a strange thing that happens in Seattle. (OK, there are many strange things that happen there, but this one is food related.) Some restaurant — usually a reasonably popular one — puts a relatively obscure but approachable item on the menu, and before you can say "hamburger with a fried egg on top", said item pops up on menus everywhere, from divey diners to haute-cuisine haunts.
Thus it is with the Reuben, the sandwich some might call Seattle's signature. And it's no great mystery why: There's something irresistibly naughty — not to mention entirely un-Kosher — about a deli sandwich that combines salty corned beef, gooey cheese, zippy Russian dressing, and crunchy sauerkraut between two slices of butter-grilled rye bread. A Reuben is the perfect antidote for drizzly, chilly Northwest weather, an overstuffed slice of golden sunshine on a plate. Served with a garlicky dill pickle and a ramekin of good potato salad, there's hardly any better cure for grey-day blues.
Child of the sunny Southland that I am, it's entirely possible that I had never eaten a Reuben before we moved to Jet City. I quickly made up for lost time: Fremont's Red Door tavern used to make a pretty good example, as did our old 'local' pub, the 74th Street Ale House on Phinney Ridge. Once we moved across town to Madison Valley, it was only a matter of days before I discovered the heavenly Reuben — and his turkey-licious sibling, Rachel — served on just-baked sour rye at the Essential Bakery Cafe. I could probably fill an entire post with Seattle Reubens I Have Known and Loved. (Thankfully, I managed to avoid the vegan one!)
Once we moved back home to San Francisco, I don't think I ever encountered a Reuben on a restaurant menu. I'm sure Reubens exist somewhere within our seven-by-seven grid, but so far we have yet to cross one another's paths. It's a sad truth that moving from city to city often means leaving behind foods (and friends) you've grown to love.
Luckily, once you have the right ingredients, it's easy to make your own fabulous Reuben. Sure, you can pick up pretty good deli meats around town, but one of the the best reasons to make your own corned beef is that you'll have plenty of leftovers. Leave the little trimmings and end bits for tomorrow morning's hash; the best and highest use of that glistening chunk of pink, lipid-laced meat lies between two slices of good bread. Shave it thin with your sharpest blade, and don't stop until you've got a goodly pile.
—-
Knowing there were Reubens in our future, we picked up a loaf New York Rye from Acme and a hunk of Spring Hill's Portuguese cheese, which makes a better-than-decent stand-in for Swiss. We thought we would be out of luck finding local sauerkraut, until fate intervened. The good news: Not one but two of our favorite local purveyors has just recently started brining their own 'kraut. Fatted Calf sells a chunky, tangy variety, and Alexander Valley Gourmet sells a crisper, finer-gauge flavor. Happily, both are excellent, and equally well suited to Reuben-making.
The bad news: Neither brand is (yet) available in San Francisco. Fatted Calf sells theirs over the counter at their Oxbow shop but, alas, not at their market stands. Alexander Valley is wrestling with the classic shelf-space squeeze: So far, no San Francisco shop has made room for their newest product. (There's hope, though: Alexander Valley's fresh pickles are already available at Whole Foods, Rainbow Grocery, and Andronico's; if you want the 'kraut, too, leave a note for the manager asking that they stock it. So far, the new Napa branch of Whole Foods is as close as we've been able to locate it.)
With two containers of locally made sauerkraut in the fridge, all that remained was the Russian dressing. We stirred together some homemade mayo, a bit of last summer's tomato jam, a blob of local horseradish, a few chopped pickles… and got ready to griddle. Sure, Thousand Island dressing would have done in a pinch, but we decided that making a 100%-local sandwich was worth a few minutes of extra prep.
And let me tell you: It was a Reuben to make you forget all the others.
The Perfect Reuben Sandwich
Here's the part where I would normally explain exactly how to craft the platonic ideal of a Reuben sandwich. But frankly, there's no way I could possibly improve on the recipe we found on Epicurious, as transcribed from Arthur Schwartz's New York City Food.
If you think the Zuni Cafe mock porchetta recipe is detailed, let me assure you: It ain't got nothin' on Schwartz's step-by-step tutorial on building the proper Reuben sandwich. The devil may be in the details, but the details are in Schwartz's Reuben.