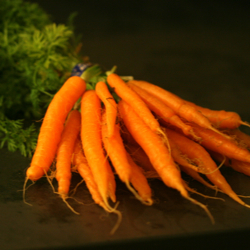 We haven't gone in much for New Year's resolutions this year, but we are making a few small changes. As part of our Dark Days Challenge (and as a side effect of finally finishing reading Omnivore's Dilemma, two years behind the curve) we're moving more of our food-budget dollars around. We'd already dabbled a bit in acclimating our palates to grass-fed beef, and we're going to get more serious about it this coming year.
But possibly the largest change — one that has an effect on something we eat literally every day — is making the switch to pastured eggs. As I mentioned in the comments to our last Dark Days post, I finally decided that spending the extra cash for ethically raised eggs was really not going to put a huge dent in the food budget. But man, $7 a dozen feels extravagant when you've been spending $2.25 for quasi-organic eggs.
Which brings me to one of my first food discoveries of the new year: Just because you buy your eggs from a joke-cracking fella at the Ferry Plaza market doesn't mean they're ethically raised. (If you get your eggs from Judy's Family Farm or any of the other eggs at the stand across from June Taylor, do yourself a favor and click that link.) Needless to say, I was pretty pissed off to discover that I'd been duped by what Michael Pollan might call "farmers market pastoral." It took a dose of righteous anger to open my eyes: A $5-per-week premium isn't outrageous. It's a tiny fraction of our food budget, and a drop in the bucket compared to the cost buying of ethically farmed meat.
With that little surprise under my belt, I reluctantly started digging deeper into the true origins of other items that I'd previously assumed were sustainably produced. Much to my pleasant surprise, Clover Organic and a number of other brands I suspected might be greenwashing were entirely on the level. (I'm not sure whether I was more shocked by my egg supplier's betrayal or the honesty of one of the area's largest dairies.)
But back to the sunny side: Putting together Dark Days meals continue to feel far too easy. Our summer of canning, salting, freezing, and otherwise preserving the harvest is paying off in spades; sometimes dinner's as simple as opening the freezer, thawing a bag of protein, and heating up a starch and a farmers market vegetable to go alongside.
We've also managed to add a number of new local items to our roster of ingredients. In the first half of the month, we sourced Liberty duck from Sonoma County Poultry (Penngrove – 48 miles); Giusto's flour and baking soda (South San Francisco – 8 miles), and of course those Eatwell Farm pastured eggs (Dixon – 67 miles).
Dark Days Ticker — January 1-15
- Dark Days dinners: 7 (out of 15)
- New recipes: Duck burgers, country-fried steak, Cornish pasties
- Old faves: One-day cassoulet (leftovers)
- Freezer fodder: Chile verde tacos; gravlax; linguine Bolognese; fusilli marinara