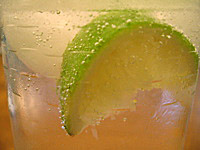 I know, I know… not very creative. But even though I'm back in foggy ol' SF, I feel like I'm permanently parched from the Vegas jaunt. And — as if I needed another excuse — it's Mom's favorite.
Gin & Tonic
Fill an 8-ounce highball glass 1/2 to 3/4 full of ice. Add 1.5 ounces good (but not great) gin,
and top up the glass with tonic. Garnish with a wedge of lime, squeezed if desired.