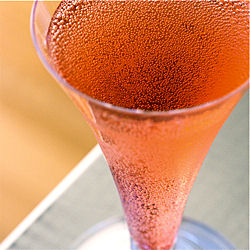 In the pantheon of sparkling cocktails, there are a thousand lesser gods, and then there are the titans: the bright Mimosa, the elegant Champagne cocktail, the tart French 75, and the dusky Kir Royale. They're generally a subtle lot, and so simple to make that you hardly need a recipe. They're all lovely in their own ways and moods — Mimosas at brunch, Champagne cocktails at weddings, French 75s when you want to get into an argument about gin vs. brandy — but the Kir Royale is perhaps the most adaptable.
Until it was popularized by Catholic priest Félix Kir, the simple aperitif of white wine and blackcurrant liqueur was known quite aptly as blanc-cassis throughout its native Burgundy. But then, history intervened. An active organizer in the Resistance during World War II, Monsieur Kir helped plan the escape of more than 5,000 prisoners of war. After the Liberation, Kir was elected mayor of Dijon — the Burgundian capital — and eventually took his place in the French national assembly. He was the last clergy member to wear the habit in the halls of the Palais Bourbon, and he always toasted delegations visiting Dijon with the aperitif that perfectly marries two of the town's best tipples.
The original Kir is made by dosing white wine — not, as some would say, Burgundy's reknowned Chablis, but rather the slightly sour Aligoté — with Dijon's equally famous blackcurrant liqueur, creme de cassis. The Kir Royale makes things a bit more festive by replacing the white wine with Champagne, an inspired substitution that moves an everyday apero into the realm of celebratory cocktail.
The Kir Royale also makes a perfect party drink, as it's low in alcohol — best for guests who may not be accustomed to knocking back a few high-octane libations in an evening — and quite forgiving of measurement-free mixing. After all, what host wants to spend time fiddling with precisely a half-ounce of this and exactly three shakes of that when there are guests to greet, coats to hang, conversation to encourage, and appetizers to primp?
We're having a few friends over for cocktails and canapés tomorrow night, and one of the ways we're planning to keep things simple is by setting up a do-it-yourself Champagne bar. We'll put a case of bubbly on ice, line up a couple dozen flutes, and gather a gaggle of colorful liqueurs — cassis, St-Germain, absinthe, violette, Chartreuse — for guests to customize their drinks. We'll have syrups, garnishes, and bitters, too, plus a sheet with ideas on how to mix and match. It'll be fun to see an assortment of pastel sparklers in the hands of our pals; I can't wait to see what our clever friends concoct.
Kir Royale
1/4 to 1/2 ounce crème de cassis (or to taste)
Champagne or other dry sparkling wine
Pour the cassis into the flute, and top with the bubbly.
Garnish with a lemon twist, if desired.