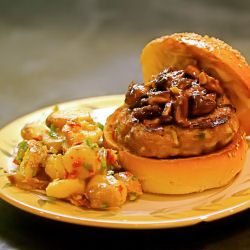 I may be the only foodie on the planet who doesn't dig duck. I love the glorious seared breast they've been known to serve at Seattle's Union, and we'll pick up the occasional leg of confit for salads or cassoulet. I don't actively dislike it, but duck's not the kind of food I generally crave.
All that may be changing. On our recent trip to Napa, Cameron ordered the famous duck burger at Cindy's Backstreet Kitchen. It smelled so heavenly that I had to try a taste. Needless to say, the combination of sweet, spicy, and smoky goodness made a lasting impression on me; as soon as we got home, I flipped open our copy of Big Small Plates to hunt down the details.
I found it easily enough, but the complexity of reproducing this dish was enough to make my eyes roll back in my head. The recipes, plural, went on for pages and pages — and that didn't even count the marinade found in a separate part of the book. Ugh. But the flavor of that burger was haunting me… and besides, what better way could there be to spend a lazy Saturday afternoon?
Truth be told, the prep wasn't all that difficult, or even time-consuming. There's a lot of measuring and mixing, but that's about it. We weren't wowed by the original mustard sauce sub-recipe, however; it took too much time, dirtied too many dishes, made enough spread for a dozen burgers, and ended up tasting no better than a much easier substitution: store-bought honey mustard mixed with a touch of creme fraiche.
If you can find pre-ground duck for this recipe, things get even easier; some Whole Foods locations offer it, and any decent butcher should grind duck-leg meat (or any meat you want, for that matter) on request. Bizarrely, the recipe says you need two whole ducks at 4 pounds each — 8 pounds of bone-in duck!? — to make 1 pound of ground meat. Holy duck! Instead, we purchased 4 whole duck legs — about 1-3/4 pounds total weight, before boning — and ran the meat, fat, and a small amount of skin through our KitchenAid grinder. We ended up with exactly 1 pound of ground meat.
Cindy's Famous Duck Burgers
- adapted from Big Small Plates
Patties
1 pound ground duck (see note in text above)
1 scallion, white and tender green parts, minced
1 tsp grated fresh ginger
1-1/2 tsp minced garlic
1T Mongolian marinade (see below)
1 tsp salt
1/4 tsp black pepper
Mustard Sauce
2T spicy honey mustard
2T creme fraiche
Shiitake Ketchup
2T olive oil
1 pound shiitake mushrooms, stemmed and quartered
1 onion, diced fine
1/2 tsp salt
1/2 tsp pepper
1/4 cup balsamic vinegar
2 tsp minced garlic
2 T molasses or dark honey
1/4 cup Mongolian marinade (see below)
To Finish
1 cup arugula
3 or 4 egg-sesame hamburger buns
Combine patty ingredients in a large bowl. Refrigerate duck mixture while making remaining components — at least 1 hour, or overnight.
Whisk the honey mustard and creme fraiche in a small bowl. Refrigerate until serving time.
Saute the mushrooms in a skillet with the oil over medium-high heat, cooking until tender. Add the onions and cook until translucent. Add the remaining ingredients, stirring well to combine, and simmer 3 to 5 minutes, until the sauce coats the mushrooms.
Portion the meat into 1/4- to 1/3-pound patties. Grill the burgers over a medium-hot fire, or broil in the oven, to medium rare — about 4 minutes on the first side, and 2 on the back — or to taste.
While burgers are cooking, toast the hamburger buns. Spread some of the mustard sauce on the bottom half of the bun. Top with the cooked burger, then the shiitake ketchup and arugula. Top with the other bun half, and serve.
—–
Mongolian Marinade
1/3 cup hoisin sauce
1-1/2 tsp sugar or honey
2 tsp tamari
2 tsp sherry vinegar
1 medium scallion, white and light green parts, minced
1/2 tsp Tabasco sauce
1/2 tsp black bean chili paste
1 tsp grated fresh ginger
2 tsp minced garlic
1/4 to 1/2 tsp ground white pepper
2T minced cilantro
1-1/2 tsp sesame oil
Whisk all ingredients together and set aside.
(Leftover marinade keeps for 3 to 6 months in the freezer, and works well on chicken or pork chops, too.)