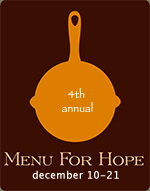 Oh, boy! The winners of the Menu for Hope raffle have been announced. Check out Pim's giant list of all the winners to see what you won.
I'm tickled pink that local food-and-spirits maven Jane Tunks won our custom mixology service prize — we'll be bringing Drink of the Week to Jane's house sometime soon, mixing up a pair of signature cocktails for a dozen of her swellest pals.
And our blog-buddy Lara, one of the blogosphere's all-time most-fabulous food photographers, won the Drink of the Week notecards on the same month she picked beverages as her Still Life With… challenge theme. Spooky, eh?
Lest you think we fixed all of the results, I'm relieved to announce that a total stranger — Lauren Kawakami – won our "Best of the Ferry Building" basket. (Ms. K, if you're out there, please drop a note to chef -at- marriedwithdinner -dot- com, with your mailing address, and we'll get your prize in the post ASAP.)
Can you believe we raised $91,188 for the UN World Food Programme? That's an astounding success! Thank you, again, to everyone who participated in the raffle. I can't wait to see what next year's Menu for Hope has in store.