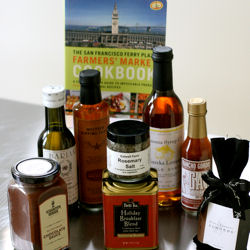 "Best of the Ferry Building" Gift Basket
An assortment of more than $100 worth of treats from San Francisco's legendary Ferry Building Marketplace: Peet's holiday blend breakfast tea, Scharffen Berger chocolate sauce, Recchiuti burnt caramel almonds, Bariani olive oil, Rancho Gordo hot sauce, Prather Ranch marinade, Eatwell Farm rosemary salt, lemon-infused Sonoma Syrup. You'll also receive a copy of the popular Ferry Plaza Farmers Market Cookbook.
To give you something to remember us by when all the goodies are gone, this prize also includes the winner's choice of an 8×10 print from our collection of market photos.
International bids are welcome, but winners outside the Continental US will be asked to pay for any shipping fees over our US$25 limit.
This item is Menu for Hope prize UW-06.
- Click here to make a donation and enter to win.
- Read the Menu for Hope overview to learn more.