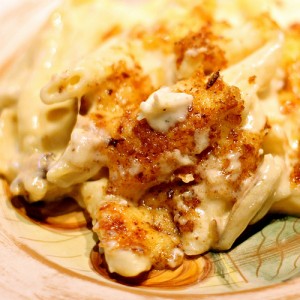 Cookiecrumb over at I'm Mad and I Eat and Kev at Seriously Good have challenged one another to a mac-n-cheese-off, an ooey-gooey duel, a fight to the death on the field of fromage. Their chosen weapons? Bechamel, pasta… and cheese.
What is it about humble ol' Mac & Cheese that brings out the competitive spirit in otherwise mild-mannered foodies? Last year, our old Seattle crew hosted a mac & cheese showdown, where no fewer than half a dozen recipes vied for the crown. And about a month ago, Union — one of Jet City's top restaurants — hosted a citywide smackdown (mac-down?) that got promoted on local radio.
I've got a few favorite recipes in the files, including a 5-minute version that I make sometimes for breakfast, but no single concoction owns my allegiance… certainly not enough for me to want to enter it into public competition. But the eye-rollingly good version I serve to company — as a side dish, mind you — comes courtesy of our friend Wendy, the hostess with the mostest, who's tweaked Martha Stewart's recipe to the point of decadence.
Fondue Mac and Cheese
4T (1/2 stick) unsalted butter, plus more for dish
2 slices good white bread, grated coarsely
2 cups whole milk
1/4 cup all-purpose flour
1/4 to 1/2 cup white wine
1 tsp. salt
1/8 tsp. each freshly grated nutmeg, freshly ground black pepper, and cayenne pepper
1/2 pound sharp white Cheddar cheese, grated
6 ounces Gruyère cheese, grated
1/2 pound penne
Heat oven to 375°F. Butter a 9×9 baking dish, and set aside. Place bread in a medium bowl. In a small saucepan over medium heat, melt 1T butter. Pour butter into bowl with breadcrumbs, and toss. Set breadcrumbs aside.
Fill a large saucepan with water, and bring to a boil. Add penne, and undercook by 2 to 3 minutes, until the outside of the pasta is just cooked. Transfer macaroni to a colander and drain well, shaking the colander to remove as much water as possible from inside the penne. Set penne aside.
Heat milk in a medium saucepan over medium heat. Melt remaining butter in a high-sided skillet over medium heat. When butter bubbles, add the flour and whisk for 1 minute. While continuing to whisk, slowly pour in hot milk. Continue cooking, whisking constantly, until the mixture bubbles and becomes thick. Turn off heat, and whisk in the wine, salt, nutmeg, black pepper, cayenne pepper, and both cheeses, reserving 1 cup of cheese for topping.
Stir macaroni into the cheese sauce, then pour mixture into prepared dish. Sprinkle remaining cheese over top, followed by the buttered breadcrumbs. Bake until browned on top, about 30 minutes. Transfer casserole to a wire rack, and cool 5 minutes; serve hot.