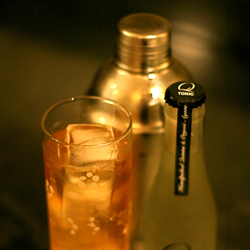 It sometimes seems like Dean & DeLuca's mission is to curate the world's most eclectic collection of foodie curios. A trip through the aisles of the Napa Valley outpost can feel like a visit to Ripley's Believe It Or Not! museum ("Oh look! Salt-cured hummingbird tongues packed in oil from Madagascar!").
Of course, one of the great pleasures of cruising through such an outlandish assortment is that you occasionally run across something fabulous that's incredibly difficult to find — like a bottle of Schweppes Indian Tonic Water. The regular Schweppes tonic is a staple in nearly every grocery store, but the drier Indian Tonic is all but unavailable in the States. Why the excitement? Until we sampled Fever Tree, I considered the rarely seen Schweppes Indian the sine qua non of tonic. Just as we grabbed a bottle from the cold case in order to see if was as good as we remembered, we spotted a 4-pack of Q Tonic, a newish brand that we'd heard of but not yet tried. Clearly the Fates had intervened, and another taste test was in order.
We set up the Schweppes Indian and the Q Tonic alongside a bottle of Fever Tree — the winner of our last tonic roundup — tasting each alone and mixed in a gin and tonic. Sweetened with glucose-fructose syrup and sugar, the Schweppes Indian tasted the most like the commercial American tonic waters, minus the nasty chemical aftertaste of high-fructose corn syrup. Its only drawback was a pronounced citrus finish that we found distracting. Next up, the Q Tonic had a light golden hue which may come from the agave syrup used as its sweetener. Bone dry, impossibly subtle, and with very little finish on the palate, the Q Tonic made for a somewhat flavorless G&T. If you're tired of being bowled over by sugary, strongly-flavored tonic waters, you may enjoy the Q Tonic, but it left us unsatisfied.
Our favorite tonic remains the Fever Tree; we like the balance between bitter and sweet, the soft touch of cane sugar, and the occasional hints of spice.
After revisiting the land of quinine, it seems only fitting to propose a tonic-based beverage for Drink of the Week. But since we've already covered the Gin & Tonic, and the Tequila & Tonic — and given that we refuse to consider Vodka-Tonic an actual drink — it seemed like we'd run out of options.
Luckily, CocktailDB rode to the rescue. The Granada seems like an oddball combination, but it's surprisingly balanced and quite refreshing. Its relatively low alcohol content makes it a good option for cocktail parties, or perhaps a post-chores refresher on those Saturdays when a cold beer just seems too heavy or malty. It's zippy and a little spicy, and the quinine's bite cuts through the sweetness of the orange liqueur while playing off its bitter-orange notes to a T.
Granada
1 oz brandy
1 oz dry sherry
1/2 oz orange curaçao (such as Cointreau)
Shake together with ice, and strain into an ice-filled highball glass. Top with tonic, and serve.