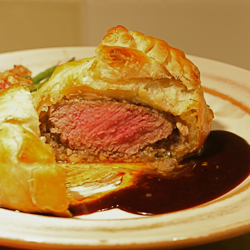 Suffice to say that we had such a relaxing time on our vacation that it's taking us an inordinately long time to get back in the swing of things. We've been home nearly 2 weeks now, and I am finally getting my head out of the clouds long enough to tell you about all the gorgeous food we ate.
Our 10 days away — in a little cottage in the foothills above Napa Valley — were incredibly relaxing. We brought along two coolers full of food from the farmers market (our landlord eyed the back of our car and quipped, "You know, we do have grocery stores here…") and we spent nearly every day sitting by the fire, catching up on our reading, and cooking amazing food.
The day we drove up, we bought a pair of enormous Dungeness crabs from Shogun fish on their last market day of the season. The first night in our little cottage, Cameron picked the crabs and we sauteed the meat in Spring Hill Farm butter along with some zest from our backyard lemons and a few slices of green onions. Served over Eduardo's linguine, with a salad and a split of Schramsberg sparkling wine, it was the perfect settling-in meal.
Of course, there was plenty of leftover crab meat! The next day, we turned part of it into crab omelettes for brunch, then mixed the rest into a sumptuous batch of fondue mac-and-cheese. Monday night, we whipped up a 100% local batch of Jen's chicken cacciatore with an heirloom chicken from Prather and some Far West Funghi chanterelles, served over Full Belly Farm polenta with a bottle of Calistoga Cellars Zinfandel.
Tuesday night was Christmas supper: Mini beef Wellingtons! Prather Ranch filet mignon wrapped in puff pastry with a slice of Fatted Calf foie gras and duxelles made from Far West cremini mushrooms, Spring Hill butter, and Straus cream. On the plate: A sauce of red-wine-infused demiglace (homemade from Prather bones) and a side of Iacopi green beans quick-braised with Fatted Calf pancetta. We drank a bottle of Cabernet from Mount Veeder Winery, just a few miles down the road from our cottage.
Wednesday night, we turned to our usual lazy-day standby: Pasta Bolognese with a big green salad. Thursday we took the night off from kitchen duty, and headed down the hill for a gorgeous sushi-fest at Go Fish. By Friday, we were ready to cook again: We pulled the last of our homemade spiral sausage out of the freezer and served it along with cauliflower soup made from farmers market veggies and a mixture of orphan pieces from the local cheese plate we'd been nibbling all week.
Saturday night Cameron made an improvised braise of Prather beef cheeks, with homemade beef stock, home-canned tomatoes, and herbs from the garden. Served with more Full Belly polenta and some Ella Bella broccoli rabe, it was the perfect supper for the chilliest night of our trip.
Sunday night, we began prepping our traditional New Year's cassoulet. While the stovetop was occupied simmering Rancho Gordo beans, searing Toulouse sausages, and cooking off Fatted Calf duck confit, we used the oven to roast a most gorgeous Range Brothers pork rib roast. An unorthodox recipe for potato gratin — started on the stovetop and finished in the oven while the roast rested — turned out beautifully… a perfect showcase for Little's potatoes, Bellwether Farms cheese, and Clover dairy. We usually roast our Brussels sprouts, but because our baby oven couldn't accommodate a roast and a side dish, we tried a new-to-us method: Sauteeing the shredded sprouts in rendered pancetta fat, and adding the crisped pork back to the finished dish at the end. (We loved it so much, we're having it again tonight.)
Monday night — New Year's eve — meant it was finally time to break into the cassoulet that had been tempting us with its luscious smells for the last 24 hours. A rough-but-tasty bottle of Pinot Noir and a big salad were all we needed to round out its delicious pork-infused goodness.
Packing the next morning was almost impossibly hard; our little kitchen had served us so well for our 10 days away! Unlike most rental houses, this one was well stocked with high-end cookware and thoughtful staples (organic eggs and Bouchon pastries awaited us our first morning). But the ultimate luxury was having the time to putter in the kitchen all day, every day. The space was cozy, and the equipment a bit spare, but it was such a treat to forget about the office, the phone, and all of our usual distractions for a few days and cook together.
We planned all along to keep up with the Dark Days challenge while we were gone, but looking back over our photos, we were surprised at just how well we'd done. With the exception of cocktails, a few lunches out, and our one in-town dinner, everything we ate and drank during our trip came from local sources. Getting to the 90% local, five-nights-a-week mark has become pretty achievable for us on a regular basis. It's comforting to know we could get to 100% local — given unlimited time to plan, to shop, to cook — even if it's not something we're able to do in the workaday world.
Now, in theory, the Dark Days challenge wrapped up at the end of last year, with an optional extension into 2008. We're having such a ball, we've decided to continue with the challenge, along with more than 20 other participants. Because our hostess, Laura, is in the midst of moving her house (and her chickens!), official wrap-ups will taper off to every two weeks.
Because it's a new year, we're going to make some changes to our own ground rules, too. Here's our revised game-plan:
We will continue to cook locally as often as we can, with a baseline of two dinners per week made from 90% local ingredients.
We will write about at least two meals a week made with as many local ingredients as we can source. our locavore adventures regularly, but we're going to dispense with the litany of meals and sources, as it's getting rather repetitious and a bit boring for non-locavore readers. We WILL talk about new pantry items, new farmers we've discovered, and recipes for in-season items within our foodshed.
Local for us will be a 100-mile radius for produce and a 200-mile radius for protein. We will try to keep our protein within a 50- to 100-mile radius at least twice a week. Strong preference will be given to items purchased directly from farmers at market rather than retail. Our protein will include pastured eggs, poultry, and pork, as well as grass-fed beef. When grass-fed is not available or not appropriate, we will use 100% humanely raised, pastured beef. (I find grass-fed beef too gamey in grilled or stir-fried preparations, but for braises and stews, it's our new default.)
We're making the usual 'Marco Polo' exemptions for seasonings. We're also making exceptions for flour, dried pasta, white rice, and polenta — we have no local sources of these ingredients, and man does not live by potatoes and bread alone. We will try to source baking ingredients locally, but I don't expect to find much beyond nuts, and I won't go through the holidays without baking. (We've found local sources for all of our grains.)
We'll try to limit processed and prepared foods to those produced within a 50-mile radius. We'll try to determine how much local ingredient sourcing they're doing, and talk about it in our posts.
We'll continue with the challenge through the end of the year, and then re-evaluate on New Year's Day along with other participants. March.