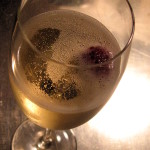 This Drink of the Week is trés simple:
Le Poire Royale
- 1 oz. Belle de Brillet (pear cognac liqueur)
- sparkling wine
Place the liqueur in a champagne flute and top with champagne or other sparkling wine. Garnish with a raspberry.
C'est bon!
I haven't tested it, but if you don't feel like hunting down Belle de Brillet — which I recommend that you do eventually, as it's a nice thing to sip all on its own — you could probably substitute 2/3 oz. pear eau-de-vie (like the Clear Creek Pear that I know many of you have on hand for Falling Leaves) and 1/3 oz. cognac or other good-quality brandy.