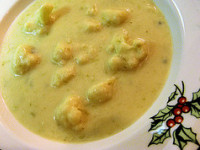 Tami of Running with Tweezers posted a gorgeous roasted eggplant soup recipe in honor of her mother, and invited her blog-buddies to post about their favorite soups. With a head of cauliflower in the fridge, a brisk chill in the air, and my own parents' anniversary dinner to cook, I knew exactly which soup to share.
I first made a variation on this soup last winter as one of the last few Soup of the Fortnight installments. But it bears repeating, because although it's based on an Epicurious recipe, you know I can't make anything without a little (or a lot) of tinkering. Plus, it's such a luxurious soup, and it goes so well with a wide variety of sandwiches and salads to make a satisfying supper — you might never guess how easy it is to make simply by tasting it.
Here's my adapted recipe, perfect for a chilly evening:
Blue Cheese Cauliflower Soup
1 (1-pound) head cauliflower, cut into small florets
1/4 cup butter
1 medium onion, chopped
3/4 cup chopped celery
1/4 cup all purpose flour
3 cups chicken broth
1 cup milk, or more as needed
3 ounces Gorgonzola (or other mild blue cheese), crumbled
Ground white pepper, to taste
In a medium pot of boiling water, blanch 1 cup of the nicest-looking cauliflower florets until just tender, about 2 minutes. Drain and rinse under cold water, and set aside.
In a large, heavy saucepan, melt the butter over medium heat. Add the onion, celery, and remaining cauliflower. Cover the pan and cook, stirring frequently, until the onions are tender, not brown — about 8 minutes.
Add flour and cook for 2 minutes, stirring constantly. Add the chicken broth and 1 cup of milk, and bring to a boil. Reduce heat and cover partially. Simmer, stirring occasionally, until vegetables are tender and soup thickens — about 20 minutes.
Using an immersion blender, puree the soup until smooth. (If using a traditional blender, puree in two batches.) Thin with additional milk, if desired. Gradually add the cheese, stirring until melted. Season with salt and white pepper, to taste.
Ladle soup into bowl, and garnish with the reserved cauliflower. Serves 4.