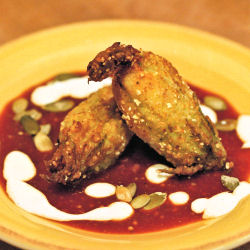 Every summer, I walk by baskets of squash blossoms at the farmers market, longing to find a use for them. Stuffing fragile flowers seemed like a tedious task for a weeknight meal, so I'd always given them a pass. But once I saw Jen's fritters — which were in turn inspired by a course at Derrick and Melissa's much-discussed dinner party — I knew I couldn't put it off any longer.
The basic idea seemed simple enough: Stuff the blossoms with cheese, dredge them in dairy and starch, and fry until golden. But I wanted to dress them up a bit — make them nice enough to serve as a light supper, alongside a simple salad — so I turned to my new favorite cookbook, Big Small Plates. The text of this popular title is written by Cindy Pawlcyn (of Mustards Grill fame) but the recipes themselves are largely the work of her two partners: Pablo Jacinto, the chef at Cindy's Backstreet Kitchen, and his brother Erasto, who holds the same title at Mustards.
The book's tapas-style approach draws inspiration from around the globe. There are plenty of straight-up California-American preparations, and Asia is well represented: A Vietnamese mini-burger salad we tried was especially delicious. But — and here I must admit to being biased — it's the book's Latin-influenced dishes that really shine. We've tackled a glorious mole casera, two batches of perfectly wonderful empanadas, and a handful of other Mexican-tinged dishes that hit the mark both in taste and in appearance.
The book's a delight to use, aside from a few scale issues: the empanada recipe yields twice as much filling as wrappers to enclose it, and the original squash-blossom dredge made easily three times as much as I needed (I've corrected the proportions below). Most of the recipes serve six as an appetizer course or side dish, but many can serve as two or even four entree-size portions. Some dishes involve prepping multiple sub-recipes, but the auxiliary instructions usually revolve around simple garnishes like the lime-infused crema here. Ingredient lists can seem daunting, but the end results come together with minimal fuss. And they look as good on the plate as they do in the photos — no small compliment in the realm of chef-written cookbooks.
But back to those blossoms. I was worried that I'd waited too long between market day and making the dish: The flowers had started to wilt and the petals were sticking together. But despite their tissue-thinness, and warnings in nearly every recipe I read about the perils of tearing the flowers, the squash blossoms proved surprisingly resilient. Pulling two petals apart at the seam between them, I could split the blossom (much like you would when making a chile relleno) to remove the pollen and stuff the interior. The petal's own natural moisture combined with the stickiness of the filling meant that I could patch the petals back together after stuffing; the batter held in any remaining leaks during frying.
It was a fiddly process, to be sure, but a highly rewarding one. Once the blossoms are stuffed, you can hold them in the fridge for a few hours. The dredging and frying comes along quite quickly after that, and if your garnishes are prepped and waiting, you're 90 percent done with a spectacular summer appetizer. (Or one very decadent supper.)
Crisp-Fried Squash Blossoms
adapted from Big Small Plates
2 ears fresh corn
1 tsp olive oil
1/2 cup grated Monterey Jack cheese
1/2 cup fresh ricotta
2 T minced cilantro leaves
—
1/4 cup cornstarch
1/4 cup cornmeal
1/4 cup all-purpose flour
1/2 tsp salt
1/4 tsp freshly ground black pepper
1/4 tsp cayenne pepper
—-
1/2 cup buttermilk
vegetable or canola oil, for frying
—
12 to 18 very fresh squash blossoms
1/4 cup toasted pumpkin seeds
1/4 cup sour cream, mixed with the juice and zest of 1/2 lime
1 cup tomatillo red-chile salsa (homemade or a good store-bought brand), warmed
Cut the kernels off the cobs. Heat the olive oil in a skillet over medium-high heat and saute the corn 2 to 3 minutes. Set aside and allow to cool, then combine with the Jack cheese, ricotta, cilantro.
Open each blossom as gently as possible, and remove the stamen. Stuff each blossom with a spoonful of the cheese-corn mixture; the amount will vary with the size of your blossoms, but don't be afraid to stuff them well. The flowers seem delicate, but they're surprisingly resilient. If you need more room to work, peel the flower apart at one of the 'seams' between the petals; you'll be able to pinch everything back together (within reason) using the filling as glue. Leave enough room to twist each blossom shut.
Set the stuffed blossoms on a wax-paper-lined cookie sheet and place in the fridge to set. Meanwhile, combine the cornmeal, cornstarch, flour, and seasonings in a shallow bowl; put the buttermilk in another shallow bowl. Dredge each stuffed blossom, first in the buttermilk, then in the flour mixture, shaking off the excess at each step. Return them to the wax paper, then refrigerate again briefly.
Set up a cooling rack topped with two layers of paper towels next to the frying area. Add oil to a shallow skillet to a depth at least half as high as the average stuffed blossom. (I used 2 cups in a 10-inch pan.) Heat oil to 375 degrees. Slowly lower the blossoms into the pan, four or so at a time to prevent crowding, turning each over as soon as the bottom side is golden brown. It will go rather fast, but if the coating turns dark brown immediately, back off on the heat a bit; you need enough time to melt the cheese. With a spider or slotted spoon, remove the crispy blossoms to the paper towels. Repeat until all blossoms are fried.
Spoon a bit of the warmed salsa on each plate, then top with 2 or 3 blossoms. Drizzle with the lime crema, and scatter toasted pumpkin seeds for garnish.