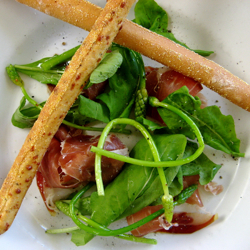 Once upon a time, there was a Chef who toiled away in other people's kitchens. After gaining acclaim for a rare skill with classic preparations, the Chef moved to Napa Valley and opened a signature restaurant on the fringe of the sleepy village of Yountville.
Soon, visitors flocked to the Valley not just to drink, but also to dine. An award-winning cookbook soon followed, then another cozier restaurant just down the road. The ensuing years brought more praise from the press, another cookbook, still more awards. Never content to rest on culinary laurels, the Chef recently opened a third restaurant aimed at a broader audience.
Think that you know this story? Not so fast. The hero of this particular tale is a woman, and the plot begins not in 1997 at The French Laundry with Thomas Keller, but in the dark ages of 1983 at a "truck stop deluxe" along Highway 29 known as Mustards Grill.
Before making history at Mustards, Cindy Pawlcyn made her name at the once-enthralling (but now sadly coasting) Fog City Diner. One of the first to popularize the conceit of comfort food as true cuisine, FCD was among the vanguard of New American restaurants. Pawlcyn was praised for her efforts there, and the cookbook she wrote remains a classic of the comfort-luxe genre.
When Pawlcyn took her jumped-up homespun specialties to Yountville, the national press knew she was onto something special. "[Mustards] changed Napa Valley and took the stuffiness out of dining," said Gourmet magazine. Pawlcyn was soon in high demand, serving as chef and/or consultant to a string of well-known ventures, including San Francisco's Bix, Marin's Buckeye Roadhouse and Napa's Tra Vigne. The Mustards Grill Napa Valley Cookbook won a James Beard Award, and it remains a perennial favorite in our kitchen (and many others, to judge from our friends' bookshelves).
Pawlcyn eventually sold her share in the Real Restaurants empire to focus solely on Mustards, but with the 2001 takeover of St. Helena's Miramonte, she again became a multi-location chef. Morphing into the less-threatening Cindy's Backstreet Kitchen in 2003, this outpost continues to draw crowds — a happy success in a region where fickle diners often disappear as quickly as they came.
—-
We've eaten at most of Cindy Pawlcyn's restaurants, including a good dozen visits to Mustards over the years, although a recent lunch there with family left me wondering if the 25-year-old landmark was feeling its age. The four of us ordered an assortment of options; none of our choices really wowed, and a few truly bombed. Months later, I grimace to recall a plate of greasy onion rings, and a pulled-pork sandwich with bland meat under a nearly inedibly sweet, heavily spiced sauce.
Happily, Pawlcyn's two other ventures are as good as Mustards ever was in its prime.
We've returned to Cindy's Backstreet Kitchen three times in as many trips north — twice last summer, and then once again last month. The food is old-school American with judicious flashes of Asian and Latin spark. If, like me, you're a fan of Pawlcyn's latest cookbook, Big Small Plates, you'll find yourself equally taken with the dining room where many of its recipes first appeared. The decor evokes a gorgeous farmhouse, with a California crispness and vibrant splashes of Wine Country color. A long bar forms the centerpiece of the front dining room, a metaphor brought home by a clever cocktail list that weaves farm-fresh produce into a collection of delectable drinks.
In early 2007, Pawlcyn launched what is now her largest outpost: Go Fish. A "West Coast seafood house" along Highway 29, Go Fish is paradoxically cavernous but cozy, a coup that owes much to successful decor and lighting. The menu includes both traditional and modern seafood plates, but — as you might expect from a kitchen under the auspices of sushi master Ken Tominaga — the raw fish options are its stunning centerpiece. We visited over the holiday and out of a dozen nigiri and a few specialty rolls we sampled, only one (the kitchen's very last portion of ikura, which we should have known better than to pounce upon) was less than sublime.
As lovely as Go Fish is, though, it's too dear for everyday. It's all too easy to spend hundreds of dollars on dinner for two, especially if you make a meal of the amazing sushi… which I highly suggest you do. Happily, there are many different ways to experience the inspired cuisine of the other — one might even say the original — Napa dining dynasty.
Cindy's Backstreet Kitchen
1327 Railroad Avenue
St. Helena, CA 94574
707.963-1200
Go Fish
641 Main Street
St. Helena, CA 94574
707.963-0700
Mustards Grill
7399 St. Helena Highway
Yountville, CA 94558
707.944-2424