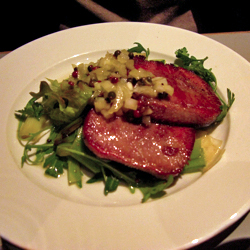 Even in the foodie heaven that is San Francisco, there's no place like Konstam at the Prince Albert. A Victorian pub that's been converted to a high-design jewelbox restaurant — it would take an entire paragraph just to explain the chandeliers-slash-draperies — Konstam toes the eat-local line with none of the obfuscation inherent in the standard "….whenever possible" disclaimer of Bay Area menus.
Even more impressively, Konstam's sourcing radius is dramatically smaller than the usual 100-mile American definition: 85% of the kitchen's ingredients, including flour and protein, come from the area covered by the London Underground and/or bounded by the M25 beltway, depending on where you're reading. Either way, we're talking about more or less 25 miles from central London.
One more thing: It seems that the idea to source ingredients locally was written into the restaurant's plan before Chef Oliver Rowe really knew it was possible — but after a television deal had been signed. As a result, his tiny temple to seasonal and local food was well-known to British foodies even before the first meal was served. A two-week BBC miniseries called The Urban Chef documented the trials and tribulations of opening Konstam and finding suppliers. Watching video of Chef Rowe scouring the outer reaches of London feels like nothing so much as a giant, £300,000 dare… with the entire country watching each night on the telly.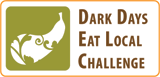 But enough about the schtick: How's the food? Rowe wisely chose Northern and Central Europe as his inspiration, so even in the dead of an English winter, there's sense to be made of the menu. A bowl of celeriac and apple soup came scattered with abundant hazelnuts, chunks of blue cheese, and a sprinkling of dill; the portion was far too large for such a dense porridge, but the flavors were lovely. Cameron enjoyed a starter of grilled Sevenoaks ox tongue, perfectly buttery-soft but meaty, garnished with a piquant pickled peppercorn relish atop a slick leek salad. It's hard to choose which of our mains was the winner: Cameron chose perfectly charcoal-grilled leg of mutton, served with intensely vegetal chard and comforting colcannon. My own moan-inducing roast pork belly — complete with scored crispy crackling — came with both picture-perfect roast potatoes and a too-sweet cabbage compote.
Although the wine list includes mostly Continental offerings, you can opt for a well-balanced choice of English wines from Kent, about 60 miles away, or pick from a great assortment of local ciders and ales from artisanal producers. We sampled the Sauvignon Blanc-like Chapel Down white and the funky Burrow Hill extra-dry cider; neither required the expected "pretty nice… for a local product" caveats.
Dessert was a modern take on traditional Victoria sponge — cake layered with cream and preserves — drizzled with vanilla syrup. Simple and exceedingly sweet, it would have been lovely with the espresso we ordered, but never received. And on that note: London will never be known for its stellar table service, but Konstam's was even a step below the usual indifference. We were so happy with our food that we weren't too troubled, but I can conjur a mood where we would have been furious at all the many issues with poor pacing, forgotten items, and long stretches of time where waitstaff simply disappeared — no mean feat in a restaurant the size of a large living room.
You could imagine Konstam being a worthwhile destination simply as a curiosity, a stunt-piece of a restaurant built on a conceit that might age poorly. But even without its locavore angle, the food delivers without offering (or requiring) any apologies for its constraints.
Konstam at the Prince Albert
2 Acton Street
London, WC1X 9NA
020 7833 5040