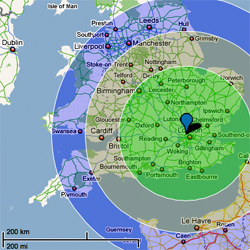 When you live on an island that's a mere 300 miles wide, local food is a relative thing. In the map to the left, the blue pin shows the location of our London flat. The green circle — which touches the Normandy coast of France — shows a 100-mile radius; yellow encompasses 150 miles, and blue — which grazes Paris! — illustrates the 200-mile radius that many wintertime eat-local challenges allow.
Looks like it would be easy to eat local, doesn't it? I'm sure with a little practice and a bit of hunting, it definitely could be. But when you're on holiday and have no understanding of where cities, counties, and postcodes are situated within Britain, it's definitely a challenge. And when we discovered that most of London's farmers markets run on a reduced schedule and roster for the run-up to Christmas, we thought we might have to call a vacation hiatus on making our weekly Dark Days meal from all-local ingredients.
Our biggest shock came on an afternoon trip to the world-famous Borough Market, the place we assumed would be the highlight of our shopping excursions. But although it's still a feast for the eyes, it's definitely taken on a more-corporate feeling since our last visit. And despite the wealth of delectables on offer, we found it nearly impossible to unearth items grown or produced local to London. One very pleasant exception: Mrs King's gorgeous raised-crust pork pies are made in the appellation-controlled region of Melton Mowbray, about 90 miles from London.
Most of the bread we found, at Borough and in shops, was baked either on the outskirts of London, or in nearby Oxfordshire. Once we got a little basic geography under our belts, finding local ales and ciders was easy-peasy, even in the big supermarkets. And many well-regarded packaged products — preserves, pickles, mustards, crackers, cookies, and so forth — are made in Britain, if not within southern England per se.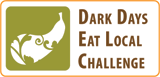 If you're willing to leave the foodie haunts and supermarkets behind, the news gets better. FARMA-certified London Farmers' Markets have some of the most thorough guidelines I've ever seen, touching on everything from permissible ingredients in artisan goods to animal welfare to to maximum distances traveled: Everything sold must be "raised, grown, produced, gathered, caught, or baked within 100 miles of the M25″, London's exterior beltway. Even on a very slow week at the Marylebone Farmers Market, we were able to cobble together a full meal: Sausages (produced on Food Fore Thought's East Sussex farm, using their own-raised pork), Brussels sprouts, and potatoes, which we served with a store-bought bottle of real ale from Hook Norton in Oxfordshire, 81 miles from London.
And in the world beyond all-local, the news is better still. Even in mainstream supermarkets like Waitrose and Sainsbury's, it's easy to find cage-free eggs and pastured chickens; a solid majority of carton eggs sold in the UK are cage-free. Thanks to many campaigns by celebrity chefs like Jamie Oliver and Hugh Fearnley-Whittingstall, Britons are by now far more aware of the intrinsic cruelty of the battery hen system than the average consumer here at home. And in England, organic certification — the kind you see stamped on supermarket chickens — means more. It's not just a simple matter of feeding Chinese organic soy to your animals; the Soil Association (Britain's main certification agency) guidelines call not just for a cage-free environment, but true "freedom to range".
Lest you think this means a giant warehouse with a tiny door to a barren yard, the guidelines actually stipulate that birds may not even be permanently housed, and that their forage must be "well-covered with suitable vegetation". And SA-certified poultry isn't just something you'll find in posh shops: Even on the New Year's Day bank holiday, we had no trouble finding SA-certified organic chicken parts in a 'Sainsbury Local', a neighborhood grocery the size of a 7-11. We couldn't find any evidence that this meat was local to us, but it was labeled "product of Britain", as were many meat packages we saw and bought.
Despite handicaps of seasonality and familiarity, I feel like we were able to do quite well, rather easily. It's hard to ignore the feeling that it feels easier to put together an ethical and reasonably environmentally sensitive meal in London than in nearly any other large city we've visited.