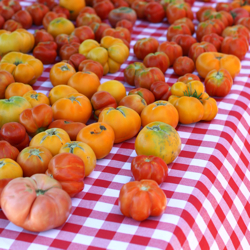 Once upon a time, Southern California was an agrarian epicenter where even small back yards usually boasted a mini-orchard, bursting with citrus or stone fruit.
My father's parents lived in semi-rural Monrovia, on a plot that included chickens, a kitchen garden, and a small avocado orchard that Dad tended to earn his allowance. Mom's parents lived in suburban Glendale, but even their yard was full of edible options, including an enormous orange tree that we harvested for fresh-squeezed juice. As late as the 1980s, there were were actual citrus groves still supplying fruit for roadside stands near my childhood home in Orange.
But these days, urban blight and suburban sprawl have plowed under this once-fertile landscape; the names of streets and boulevards offer the last hint of the area's pastoral past. Sadly, you'll find no nuts on Nutwood, no oranges on Orangethorpe, no chiles in Anaheim. A few last pocket farms remain, but by and large they're limited to mono-crops like strawberries or pumpkins… the kinds of u-pick items that scout troops and school groups will pay to see.
As you might imagine, an area this divorced from its farming heritage makes for a pretty tough locavore life. Despite a few large, well-regarded farmers markets, even the notion of a dedicated farm-to-table restaurant is pretty out on the fringe. LA Weekly-überfoodie Jonathan Gold laments that "the idea of locavore dining is more admired than actually practiced in Los Angeles, even at the restaurants where farmer-celebrities like Alex Weiser or the McGraths are treated with more awe than Matt Damon."
For home cooks, local produce is widely available so long as your schedule and location make it easy for you to visit the bigger farmers markets in Irvine, Hollywood, or Santa Monica. But if you're not able to shop on Saturday, you're pretty much stuck with food of unknown origin. During our recent trip to the area, we rented a vacation house with my family for the week, and so we had access to a kitchen. But we got into town too late to hit the farmers markets… a mistake we will be sure not to repeat!
Much like the supermarkets back home in Northern California, none of those we visited in Los Angeles or Orange County offered any indication of where their food came from. Even Whole Foods was a joke: Items bottled in Napa Valley — at the other end of the state — were proudly labeled as "LOCAL!". When we asked employees about this, they pointed out Whole Foods' store policy: Anything raised within 7 hours of the market was considered local… perhaps the most liberal interpretation of locavorism that I can imagine. And although we're used to having to pay close attention to sourcing even at our local Whole Foods, we were surprised that we didn't see a single 'local' sign in the produce section.
But it was Henry's Marketplace — part of the Wild Oats chain — that won the hypocrisy prize: A giant banner on the rear wall of the store read: "Choose LOCAL! Enjoy the freshest flavors from your community." But in fact, the only local products we were able to find in the entire store were Broguiere's milk (locally processed from semi-local, non-organic herds) and Henry's own-brand eggs. Not a single fruit or vegetable bin was labeled with its point of origin, much less its farmer's name.

After much searching, we stumbled upon the website for South Coast Farms, one of Orange County's last small-scale farm operations. We took a trek down Coast Highway to find that they do run a daily farm stand with a remarkably diverse set of offerings… our first clue that something wasn't quite right. Turns out, only a handful of the items for sale are actually grown on site: Tomatoes, cucumbers, onions, and a few herbs. Others are 'local' — alas, no indication on signs of farms or even towns — and many are simply big-organic imports from South America. (Apparently, their CSA is a little more focused than the stand.)
Working on a tip that Cal Poly Pomona offered local meat processed by their students, we took a trip out to the Farmstore at Kellogg Ranch. We did find local protein, but frozen chickens and a few sausages were all that the cases held. (Perhaps the stock is better during the school year?) Once again, it was anyone's guess whether the fruits and veggies on offer were grown locally; there were a number of out-of-season crops for sale that made us suspect not. We got all excited over an entire wall of preserves, pickles, and sauces in quaint Mason jars, until we naively asked the store manager whether they were made by students, or just made from the farm's own crops. "Oh, no…" she replied, with a tone that implied we'd just rolled off the turnip truck, "We just buy them from a company that puts our label on them."
Defeated, we stopped into one of the smaller weekday farmers markets to see what we could cobble together. Although there couldn't have been more than a dozen stalls, the mostly-Latino farmers offered a nice assortment of options: A basketful of tomatillos, a few heads of pungent celery, brown bags of fingerling potatoes, a huge pile of frying chiles, stacks of whiskery onions. Nobody seemed to be indulging in the luxury of specialization, which suited us just fine.
I won't even go into the afternoon we spent trying to find local rolls for our sausages, but suffice to say we succeeded — even though we bought squishy commercial hoagie buns from the supermarket. A tiny corner store near our beach house supplied us with locally made tortilla chips, which we ate dipped in salsa verde made entirely from farmers market vegetables. For our entrees, we grilled up the German-style bratwurst we'd found at Cal Poly, topped them with a sauteed mix of peppers and onions, and served them on those supermarket buns. On the side, we had our favorite potato salad — everything locally sourced except the mayo and spices… and pickles from one of Kellogg Ranch's faux-local canning jars.
Of course, it took us all week to get everything we needed, and our carbon footprint was enormous: We took the 100-Mile Diet to a literal extreme, racking up 90+ miles in the car on our search. I'm sure that with a little practice and a lot of hunting, we could find easier sources for much of what we drove around to find. But I'm thankful, more than ever, for the bounty that sits literally at my doorstep in San Francisco.
South Coast Farms
32701 Alipaz Street
San Juan Capistrano, CA 92675
(949) 661-9381
Monday through Saturday 9am to 5pm; Sundays 9am to 4pm
The Farmstore at Kellogg Ranch
4102 S. University Drive
Pomona, CA 91768
(909) 869-4906
Sunday through Friday 10am to 6pm; Saturday 8am to 6pm
Tustin Farmers Market
Corner of El Camino Real and 3rd Street
Tuesdays, 9am to 1pm