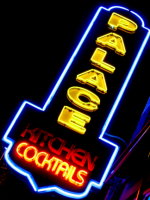 it's our last night in Seattle, and where better to wrap things up than Palace Kitchen, the casual-dining jewel in the Tom Douglas empire's crown. Palace quickly became one of our Seattle haunts when we were locals, and somehow they always managed to have "our" usual table ready and waiting just as we walked through the door — no mean feat, given that they don't take reservations.
Years before 'small plates' became a thing that every decent chef dabbled with, diners at Palace were already constructing delicious meals from just the left side of the menu, where you'll find favorites like plin (ravioli-like Piemontese dumplings), mind-bogglingly good oysters with shave-ice mignonette, and a rotating selection of five artisanal cheeses.
After extensive research — and 18 months of the foodiest folks in town trying hard to dethrone the resident Royale — pretty much everyone I know agrees that Palace is home to Seattle's best hamburger. (It's also home to the world's coolest ladies' room stall: the size of my first apartment and just as funkily furnished.)
Palace also is one of just a handful of locations where you can buy a slice of Tom's justly famous Triple Coconut Cream Pie. (He also sells it at touristy Etta's near the Market and the upscale Dahlia Lounge, plus Dahlia Bakery.) If you don't have room for dessert, they'll box it up for you to eat later… and throw in some napkins and plastic cutlery, too. Or come late, just for dessert: Palace serves their whole menu until 1am — pretty much last call for food in sleepy Seattle — and a special breakfast-style entree just from 10pm through closing time.
Palace Kitchen
2030 Fifth Avenue
Seattle, WA 98121
206.448.2001
(reservations for parties of 6+ only)