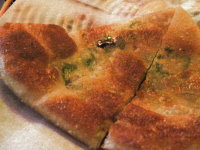 A recurring theme at our house is the sad downward slide into mediocrity that many of our former restaurant favorites have taken. I'm sure we've got more than a handful of friends who are thoroughly sick of hearing me crab about how Thep Phanom has languished, for just one example. So we were sad to hear of the departure of the chef (and most of the staff) of our old Seattle haunt, Seven Stars Pepper. Apparently they're still cranking out decent food, but nothing compared to the mind- (and mouth-) numbingly amazing treats of yore.
Thank the eight immortals that Szechuan Chef is essentially the reincarnation of Seven Stars Pepper. Instead of a dingy Asian mini-mall at 12th and Jackson on the fringe of the International District, you'll now find yourself at a thoroughly generic strip-mall in the ass-end of Bellevue, which once housed a really skeevy Kmart. (One interesting side note: The drive may be a haul, but the parking lot is a lot less reminiscent of a place where the hero gets jumped in a video game.) And Szechuan Chef has slightly higher pretensions than ol' Seven Star: better decor, better uniforms, nicer dishes and menus — although the prices remain insanely reasonable. Six of us ordered a thoroughly sufficient amount of food — check out the photos if you don't believe me — and spent exactly $20 each, including tax and a 20% tip.
Best of all, it seems that much of the kitchen staff and most of the waitresses have followed the chef to his new location, including Ming, the amiable woman who we've always called Szechuan Auntie. As we walked through the door Friday, she stopped cold in her tracks and blinked, then walked toward us with outstretched arms and a huge grin.
"I can't believe it's you!" she said, cracking a huge grin. Man, we knew we missed her, but we had no idea she missed us, too. She must have come over three times in the next 10 minutes just to explain how surprised / happy / amazed she was to see us. And then she quipped: "I'll tell them to start your Chong Qin chicken right now!" Wowsa… this doesn't happen at San Tung.
Never one to tamper with a successful formula, we started out with a pair of old favorites: the green onion pancake and an order of hand-shaven dandan noodles with pork. Both were served promptly and piping hot… and tasted just as good as ever. We waited for one our party to arrive, and enjoyed an array of beverages, including a trio of house-made (but adorably packaged) fruit slushies. And then the food onslaught began. Chong Qin chicken, just as crispy and glorious as in the old days, smoky flash-cooked water spinach (aka ong choy), and many other faves. Even a couple of mis-steps — they were out of shell-on prawns so our salt-and-pepper shrimp came white-people style, and the whole Szechuan fish we thought we were ordering turned out to be chunks — couldn't dampen our enthusiasm.
It's good to be missed, but it's even better to find an old favorite doing even better than you remembered.
Szechuan Chef
15015 Main Street
Bellevue, WA 98007
425.746.9008