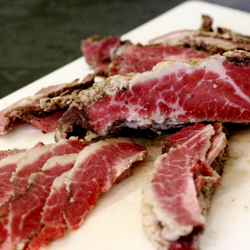 If you ask Cameron what his favorite cold-weather meal is, you might be in for a surprise. It's not Thanksgiving turkey with all the trimmings. It's not even a big prime rib, with plenty of leftovers for his beloved beef-and-bleu sandwiches. No, the thing my Scots-Irish husband loves best when the nights are long is New England Boiled Dinner — better known as "corned beef and cabbage" — with a hearty dollop of horseradish cream and an imperial pint of stout to wash it down.
Like most folks, we've reserved this marvelously meaty meal for St. Patrick's Day feasts. But given how cheap it is, and how much we enjoy it, I'm not entirely sure why we don't trot it out regularly. Perhaps we got in the habit back when it was difficult to find corned beef during the rest of the year. But the last few winters, we've taken to curing our own brisket, so getting our hands on nice corned beef isn't so much of a problem.
I know there are at least two of you who know our little secret: Home-cured corned beef only sounds impressively arcane; it's actually about the easiest thing you can cure at home. The only thing you need is a 4-to-6 pound piece of brisket — point cut, preferrably — plus a few easy-to-find spices and a week's forethought. And if you use a dry cure like the Cooks' Illustrated recipe [link removed*] we often follow, rather than the typical immersion brine, you don't even need a lot of fridge space. Honestly, we've got to do this more often… if only for the crave-inducing leftovers.
This year's brisket came to us from Marin Sun Farms, and a glorious specimen it was. For the accompaniments, we wandered the Ferry Plaza market and rounded up a Catalan Farms cabbage, two pounds of Little's potatoes, a bunch of Star Route Farms carrots, a pile of Dirty Girl boiling onions, and a couple of rutabagas from Heirloom Organic. Imagine our surprise as we walked by the Happy Girl Kitchen pickle stand on our way back to the car and noticed they were selling prepared horseradish! (Yes, it was local — grown at Tairwa Knoll Farms and processed in Santa Cruz County — and delicious.) On the way home, we popped by our local microbrewery, 21st Amendment, and picked up a growler of their oyster stout. Ah, it was the easiest 100% local meal of the month, to be sure, and definitely one of the tastiest.
The rest of the fortnight was full of other tasty tidbits, including six meals at restaurants that wear their locavore menus on their sleeves. You'll recognize lots of old standbys in the list below, and a pair of newcomers. Let's just say that Conduit seems to be still working the kinks out of their kitchen; they've only just opened, so we'll keep mum. On the other hand, Ubuntu is old enough to know better. I wish we had loved every bite at this nationally fawned-upon Napa newcomer, but — as our friend and dining companion Cookiecrumb detailed elsewhere — the inventive flavors and gorgeous ingredients were so oversalted as to be nearly inedible. Ah, well… they can't all be Range, I suppose.
Mercifully, we did not return home hungry. There were plenty of other delicious things we discovered on our Napa field trip, including a to-die-for packet of pastrami (from Fatted Calf's gorgeous new shop at the Oxbow Market) that had us happily gorging on sandwiches… even for breakfast. And we also discovered another secret ingredient that we'll share more about in our next Dark Days installment.
Dark Days Ticker — March 1-15
- Dark Days dinners at home: 8 out of 15
- Locavore dining-out: Range, Primavera, ubuntu, O Izakaya, Two, Conduit
- New recipes: Jamie's stuffed potatoes, Hugh's milk-braised pork, cauliflower steaks
- Old faves: corned beef & cabbage, egg drop soup, bean salad, Waltuck's chicken paprikás, grilled rib-eye
- Freezer fodder: golden veggie bisque, potstickers, chili verde enchiladas, oxtail ragu, bolognese sauce
New local items in the pantry:
- Straus Creamery cream-top milk (2% and whole)
- Marin Sun Farms point-cut brisket
- Fatted Calf pastrami (available at their Napa store only, alas!) and bierwurst
- Little's "all blue" potatoes
- Zuckerman's asparagus
- Happy Girl Kitchen Co. prepared horseradish
- Andante butter
- 21st Amendment Oyster Stout (brewed with Hog Island oysters!)
- Carmel S&S Syrah (thanks, Lauren!)
- Bartholomew Park Cabernet
—-
* Edited to add: We removed the link to the Cook's Illustrated recipe in July 2008 in protest of their bullying tactics.