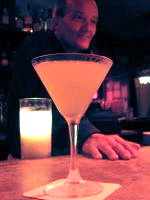 About a year into our Great Northwest Experiement, we were both desperately homesick for all of our friends in San Francisco… and utterly sick of trying out restaurants that "everyone" said were great, but that were either nothing special or unspeakably terrible. I think it was Cameron who first started posting on Chowhound's Northwest forum, looking for better food; I soon joined him, posting reviews of places we tried and hated (usually) or loved (occasionally).
One fine day, a CH poster called MsRamsey sent me an email and told me to check out eGullet. Once we landed on eG, we found a fantabulous crew of like-minded souls — people who knew where to find the really good stuff and weren't satisfied until they found even more of it. We became great friends with many of these folks over the course of the next couple of years; they became our primary social circle. (The ultimate irony is, of course, we miss the Seattle crew now at least as much as the people we left behind in San Francisco.)
Not long after, three of our foodie friends invited me our for "drinks with the girls" at Zig Zag Cafe, a bar I'd never even heard of, much less visited. Little did I know that I was in for a life-changing experience. I met a man named Murray Stenson that night — a man who would become a friend and a mentor. He made me a drink that night that opened my eyes to the wonders of cocktails beyond plebian Gin & Tonics and Whiskey Sours.
This, ladies and gents, was that drink. It remains a favorite of mine — and retains its place on the Zig Zag menu — to this day.
Last Word
1/2 oz. gin
1/2 oz. Maraschino liqueur
1/2 oz. green Chartreuse
1/2 oz. lime juice
Shake with ice, and strain into a cocktail glass.