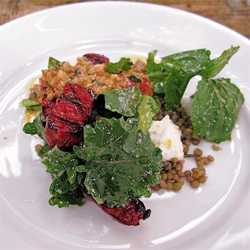 Here's a recipe for a magical midwinter's afternoon: Take the Tube to Richmond, a village on the fringes of London, then hop a red double-decker bus for a ride along the Thames. Alight in front of the cheery half-timbered pub, walk down the church lane past the Celtic stone crosses, left at the split-rail fence, and bob's your uncle: You've arrived at Petersham Nurseries.
Now, even if an afternoon at a garden centre is not your idea of holiday time well spent, bear with me. Remember that the English excel at creating magical places, at planting beautiful gardens, at the eternal joy that is lunchtime. So it should come as no surprise that a mid-day repast inside a converted greenhouse — complete with dirt floors, mismatched chairs, and waitresses wearing muckboots with skirts — would be just the sort of adventure that would pay off very handsomely indeed.
Take your seat under the heater, and start with the seasonal sparkler — say, vanilla-rhubarb prosecco — then pick an appetizer to share. (If the chorizo starter with with lentils, caprini fresca, and agresto is on the menu, please order it; you won't be sorry.) Pick your mains from a short list, one of which always seems to be vegetarian and another fish. Chef Skye Gyngell's team "sources the best-quality seasonal ingredients that we can lay our hands on", so you might opt for a whole roasted partridge with farro, chard, and salsa verde, or perhaps a fillet of sea bass served with clams, fino, arrocina beans, and aioli. Make sure to save room for dessert: The hazlenut tart comes with a generous drizzle of chocolate sauce and a dollop of airy crême fraiche.
Should you need to freshen up, you'll find the loos in the hobbit-like wooden structure that houses the cafe kitchen and the teahouse. The latter — if you've neglected to book ahead, or just fancy a lighter nosh — offers a daily soup served with good bread and a hodgepodge of sweet cakes. And tea, of course. Always tea.
The nursery yard itself is full of all sorts of treasures, so if you're a gardening buff — or, really, even if you aren't — be sure to budget enough time to stroll and browse. The last lunch reservation is taken at 2:45, but the retail side remains open until 5pm, although in the dwindling light of wintertime you might plan to come early rather than stay late.
Bundle up and stroll back down the lane to the bus stop, where the diamond-paned windows of the pub now glow with holiday cheer. Your bus will be along promptly — this is England, after all — ready to whisk you back up the hill to Richmond and the real world… full, happy, and content.
Petersham Nurseries & Cafe
Church Lane, off Petersham Road
Richmond
Surrey TW10 7AG
020 8940 5230