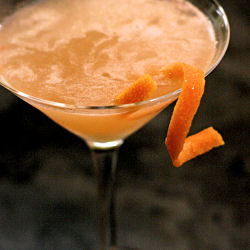 Editor's note: Our pal Sean returns once again to Drink of the Week guest-bartender duties with a delicious, prettily pink cocktail inspired by the fabulous girl in his life.
—-
Last week, we celebrated one lunar year with our daughter dog, Reese. Like proper San Franciscans, we simply had to throw a cocktail party to, um, mark the occasion. But what to serve? Salty dog? Perhaps. Bark-tini? Ugh, no. Greyhound? Now we're talking.
Nothing more than vodka and grapefruit juice, the Greyhound can be lovely with brunch, but it's maybe not the most interesting option for cocktail hour. Luckily, we had just finished our inaugural batch of pompelmocello, and so we decided to sub that in for some of the vodka. And being cunning linguists as we are, we dubbed our newfound concoction the Italian Greyhound.
The name was apt, for when we were researching breeds while 'shopping' for a dog, Italian Greyhounds were front-runners in our consideration. Apartment-sized, trainable and loving, they seemed like a good match for us. The one deterrent was that they have a tendency to burrow under blankets and pillows, and if you accidentally and unknowingly sit on one in its ersatz lair, you can kill it. Maybe, we thought, we wanted something a little sturdier. In the end, we got our Manchester Terrier mix pound puppy, who at 17 pounds swaggers with the attitude of a dog many times her size.
Alas, there already exists a cocktail called the Italian Greyhound, basically your standard Greyhound with a float of Campari on top. It's just as well, for in tinkering with the recipe further, I decided vodka wasn't really the way to go anyhow. In order to convert the greyhound into something worthy of a cocktail glass, I had to bump up the booze-to-juice ratio, and vodka just wasn't bringing anything to the party. Gin, on the other hand, offered enough complexity to offset the acidity of the juice.
All that remained from the original inspiration was grapefruit juice, and smaller amounts of it, but I still wanted to honor its provenance. Anita suggested dubbing it the Levriero — Italian for greyhound — and so a new cocktail was fledged.






Levriero
1 oz limoncello (or pompelmocello)
1 oz gin
2 oz red grapefruit juice
Shake with ice and strain into a chilled cocktail glass. Garnish with mint sprig or a twist.