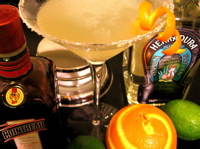 Tonight is Noche del Grito, the big celebration on the eve of Mexican Independence Day. Now, I know you probably think that Cinco de Mayo is the equivalent of our July 4, but we gringos concocted that caca del toro… probably in order to sell more Cuervo and Coronas.
When I was in Puebla last May and mentioned that norteamericanos celebrate May 5 as a Mexican holiday, the poblanos were understandably perplexed.
But el 16 de Septiembre is the real deal, so it seems only fitting to make up a batch of Margaritas. Don't touch that blender, Sancho: The real thing's served either up or on the rocks, and made with lime juice… none of that sicky-sweet "sour mix."
Margarita
2 oz. good-quality silver tequila
1 oz. Cointreau
1 oz. freshly squeezed lime juice
Shake all ingredients with ice. Strain into a chilled, salt-rimmed cocktail glass, or serve on the rocks in an old-fashioned glass. Garnish with an orange twist or a wedge of lime.