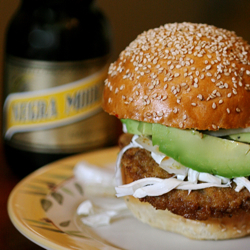 A few years ago on May 5, I found myself in Puebla — the city where the historic Cinco de Mayo victory of Mexican forces over their French invaders took place. When I asked my taxi driver if there were any festivities planned to commemorate the anniversary, he looked at me like I was crazy: "It's a military holiday, mija."
Even in Puebla, the idea of Cinco de Mayo as an event worthy of feasting and celebration seemed utterly unknown. Every Poblano who I told of the norteamericano version of the holiday — at best a celebration of Mexican-American pride, at worst an excuse to drink excessive quantities of nasty sour-mix Margaritas — expressed complete astonishment, shaking their heads as though they'd just discovered yet another reason to pity our confused country.
But no matter: I hadn't gone to Puebla in search of patriotic parades or folklorico dancing in the city squares. I'd gone there to spend a few days relaxing before meeting friends in the bustle of Mexico City, to explore the city's beautiful colonial architecture, and to eat Puebla's famously delicious food.
Strolling the streets the morning of my arrival, I found a peasant woman standing in a tiny off-the-path plaza, selling tamales out of a steaming metal can. There were three choices, but I barely registered the first two: The last, the one I chose, was mole. There are many moles in Mexico of course, but the best-known — the chocolate-tinged, brick-red one most Americans think of when they think of mole — hails from Puebla. Reputedly invented by an order of nuns in honor of their bishop's visit, mole poblano is sinfully delicious and worth every bit of the hassle it takes to make it. It also makes an excellent tamale filling, a perfect breakfast after 12 hours of travel by plane and bus and taxi.
Thus fortified, I wandered Puebla's tidy grid of streets without much of a plan. I explored the cathedral of the angels, considered one of the country's most stunning churches, followed by a plate of tacos árabes at a tile-bright shop called Tacos Tony. I watched the propane vendors ply their wares: Pulling their truck up to the middle of a residential block, they blared their promotional jingle — a festive snippet of dance music, punctuated by a deep bass voice crying "EL GAZ!!" — and the ladies of the house would come to the street bearing tanks to be filled. On my way to the Mercado Carranza, I stumbled across a Victorian-era shopping arcade featuring an enormous stained-glass gazebo and cobblestone footpaths. And once I reached the mercado, I discovered my favorite Puebla snack: Cemitas, at a stand called El As de Oros.
Some folks will tell you that a cemita is little more than a torta served on a Puebla-style roll rather than a more typical bolillo, but the differences run a little deeper. Like tortas, cemitas are available with the diner's choice of meat fillings — stew-like tinga, crispy carnitas, chewy cueritos, or golden-brown milanesa. And like tortas, cemitas are essentially a taco on a bun.
Unlike a torta, though, you rarely see mayonnaise on a cemita, nor frijoles; lettuce is a definite no-no. Aside from the meat, toppings nearly always include a generous amount of avocado, a bouncy cheese like panela or queso de Oaxaca, a slather of salsa roja, and a pungent herb called papalo. Like tacos árabes, cemitas have their roots in the cuisine of Puebla's Lebanese immigrants. The word itself means "semite", a nod to the soft, eggy, sesame-seeded rolls borrowed from the Arabic kitchen.
Alas, unlike in Los Angeles — where a gaggle of cemita trucks are giving their taco-vending cousins a serious run for the money — you'd be hard pressed to find a cemita for sale in San Francisco. But of all the comidas típicas poblanas, cemitas are the easiest to make. Even if you quake at the thought of a day-long adventure required to make authentic mole poblano, or the near-impossible task of replicating spit-grilled tacos árabes at home, cemitas are a cinch.
The ones we're enjoying as our Cinco de Mayo treat are filled with the homemade chicken-fried-steak called milanesa, arguably the most-popular cemita filling. But if you've got some carnitas or tinga left over from your own festivities, I guarantee they'll find a happy home between two halves of a sesame-seed bun.
Cemitas Poblanas de Milanesa
1 pound beef sirloin tips, pounded thin
1/2 cup flour, seasoned with 2tsp salt and 1tsp pepper
1 egg, well scrambled with 1T water
1/2 cup fine breadcrumbs
oil for frying
—–
4 challah rolls, preferrably sesame seeded
1 mild white or red onion, sliced thickly
8 oz panela or queso de Oaxaca, or other fresh and creamy Mexican cheese
your favorite mexican salsa roja (the cooked smooth sort, not like pico de gallo)
- or substitute a few pureed chiles chipotles en adobo thinned with water or vinegar
2 large avocados, peeled and sliced
16 sprigs of papalo (or substitute cilantro)
Pound the meat flat with a meat tenderizer, 1/4-inch or thinner, and pat dry with a paper towel. If the pieces are larger than sandwich size, you may want to cut them apart. Dredge the meat in the seasoned flour, brushing off any excess until just the thinnest layer remains. Dip quickly in the egg, again taking care to leave as little as possible on the meat, and then a light layer of breadcrumbs.
In a deep skillet, add sufficient oil to shallow-fry at a depth of 1/4 inch. (In my 10-inch skillet, I used about 3/4 cup.) Heat the pan over medium heat until oil is shimmering but not smoking. Place the breaded meat in the pan and fry until golden brown on both sides, just a few minutes total. Remove from the pan and keep warm on a cooling rack in a warm oven.
Cut the buns in half, and lightly toast under a broiler or on a griddle. While buns are toasting, coarsely smash 1/3 of the avocado in a bowl with the back of a fork. Spread the mashed avocado on the bottom of each bun, and season with salt. Pour the salsa onto a small saucer, and dip the top half of each bun into the salsa to coat; set aside. Top the bottom half of the bun with a piece of the milanesa, followed by cheese, onions, papalo or cilantro, and the remaining sliced avocados, and the salsa-smeared top.
Something to drink?
- Margaritas: Drink of the Week 9/15/06
- Michelada: Drink of the Week 11/24/06
- Sangrita: Drink of the Week 6/1/07