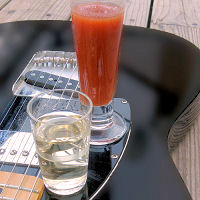 I felt a bit odd concocting this week's entry, given that I had never before had an authentic sangrita — by which I mean served in a roadside shack in Mexico, or in a dark Mission District dive drawing inspiration from our friends to the South. Truth be told, I'd never even had an inauthentic sangrita — served anywhere. Given my fondness for tequila, this seemed an odd state of affairs. A post from Steve over at Rancho Gordo extolling the virtues of "a shot and a sangrita" inspired me to correct this deficiency.
I was initially concerned that my lack of personal experience with the drink might prove to be an obstacle, but my research provided me with great comfort. As far as I can tell, if you ask fifteen sangrita aficionados to list the drink's ingredients, you will get fifteen wildly different recipes and possibly an entertaining fistfight, depending on how many of the aficionados are in the room at the same time and how much tequila they've had.
Most of the sangrita recipes that I found started with some combination of tomato juice and citrus — usually orange juice. The next most common ingredient was grenadine or pomegranate juice. After that, ay dios mio, baby, just go to the vegetable market, close your eyes and point. I found instructions for chopped onion, chopped jalapeno, lime juice, chipotle powder, dried chopped ancho chile, Tabasco, cayenne pepper, chili powder, and lemon juice. I'm sure that there are even more exotic mixtures lurking in the darkness. I'm just happy that I stopped before I found anything that would require the services of an entomologist.
We tested recipes that included nearly every ingredient mentioned above, but ultimately settled on a combination of juices without a lot of additional hoo-hah. The key was achieving a balance between the tomato and fruit juice flavor — a process that required countless hours of selfless taste-testing… all in the interest of you, our faithful reader. With that done, we found that all of the other exciting additions just got in the way, added to the prep time, and made the drink grainy and unpalatable. Our winner was loosely based on a recipe from Rick Bayless' Authentic Mexican. The beauty of this concoction is that you can easily adjust the proportions to your taste.
A few words about the ingredients: The orange juice was freshly squeezed; storebought juice will be more acidic and not as sweet. You can substitute grenadine for the pomegranate juice, but the result will be much sweeter. It's worth the time to make your own good-quality tomato juice — all you need is a blender or food processor, a fine metal sieve, and some canned tomatoes.
Finally, skip the Tabasco, Tapatio, or other vinegar/cayenne sauces in favor of a good quality hot sauce that adds flavor as well as heat. We used Frontera Red Pepper Hot Sauce, which is, coincidentally, the bottled version of Bayless' Chile de Arbol Hot Sauce, another recipe from Authentic Mexican. These days, the Frontera line is available in most grocery stores; you can also buy it online. Por supuesto, we got the very best results using Rancho Gordo Rio Fuego Very Hot Sauce, but we are impossibly biased.
Sangrita Casada
makes four shots
4 oz. tomato juice
2 oz. orange juice
2 oz. lime juice
4 tsp. pomegranate juice
1/2 tsp. hot sauce
1/8 tsp. salt, or to taste
6-8 healthy dashes Worcestershire sauce
Combine all ingredients in a glass container, and chill well in the refrigerator. When thoroughly chilled, divide into 4 shot glasses, and serve alongside 4 shots of good-quality gold tequila, preferably reposado. Sip… first the tequila, then the sangrita.