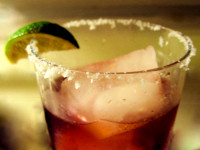 When plotting out this week's pre-Thanksgiving meals, I decided that it had been too long since we'd enjoyed any home-cooked Mexican treats. And because I've already renewed the Doña Tomás cookbook three times at the library (no más renewals for me), I wanted to try one more recipe out of it.
I picked out a chicken taco recipe — mostly on the strength of its interesting-sounding salsa — and happened upon a recipe for Michelada, a beer-based concoction, which I added to the menu.
Once I get the week's dinners sussed out, I shuffle them around, matching each meal's complexity to the days of the week that make the most sense. Since we were facing a short week with Thanksiving travel planned, I didn't have a lot of wiggle room. But, consulting my trust Rancho Gordo calendar, I noticed that Tuesday, 11/20, was the anniversary of the Mexican Revolution. Perfecto!
When I went downstairs to copy the recipes out of the cookbook, imagine my amusement to find this snippet in the Michelada header notes:
Without General Don Augusto Michel, there would have been no Mexican Revolution, and no such drink as the Michelada. Actually the revolution probably would've still taken place, but we definitely would have been deprived of this unique libation… which is not really a beer, not really a cocktail.
And, at least anecdotally, they appear to be correct… at least about the drink's legendary namesake. Here's another snippet from a Mexican food distributor's site:
This traditional Mexican drink has been around since the days of the Mexican Revolution. A revolutionary general from San Luis Potosi named Don Augusto Michel used to visit a restaurant and he liked to drink his beer in a very unusual way. In a glass with ice, he poured lime, salt, soy sauce, pepper and picante. This speciality soon turned into a popular drink, making the restaurant famous for it. Because of that, the owner decided to baptize this speciality in honor of his creator.
Alas, I can't seem to find any reliable references tying Don Augusto Michel to the Mexican Revolution, but I never let the truth stand in the way of a good drinking tale. So, here's to Don Augusto's possibly fictitious legacy, and to happy coincidence. ¡Viva la revolucíon!
Michelada estilo Doña Tomás
coarse salt
juice of 1 lime
1-2 drops habanero hot sauce (or to taste)
1 dash Worcestershire sauce
1 pinch kosher salt
1 bottle Negro Modelo (or other dark Mexican beer)
1 lime slice, for garnish
Salt the rim of a tall glass, and fill with ice. Stir in the lime juice, hot sauce, worcestershire sauce, and salt. Pour in the beer and garnish with a lime.