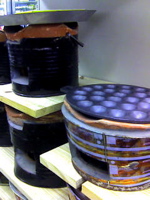 Cameron was otherwise occupied yesterday, so I decided to head over to the East Bay and check out a couple of Thai stores in Berkeley. I wasn't shopping for anything in particular yet, but I wanted to get a sense of what each store had, as I ramp back up to cooking Thai more often. Specifically, I wanted to know if I would be able to find Thai produce like young peppercorns, wild pepper leaves (bai chapoo), holy basil, pea eggplants and such.
Totally bypassing the theme of the afternoon, I started off the day with a stop at House of Chicken and Waffles (444 Embarcadero West, Oakland). I'd go into more detail here, but that's a topic for another post. (Do you see my nefarious plan for blog domination taking shape? I knew you would.) Anyway, it's probably a good thing that I was stuffed, or else I would have spent half the afternoon stopping at the taco trucks I passed along the way.
I hesitate to admit publically that I had never been to Berkeley Bowl (2020 Oregon Street, Berkeley), but I suppose I am among friends. I feel pretty safe in saying that this would have to be the best outpost that I've ever encountered for hard-to-find produce, including a wide variety of asian vegetables and 'exotic' citrus. Impressive bulk-foods section and competitive prices on everyday groceries, too. I wish I lived closer so I could bypass Whole Paycheck. Serious points off for the zoolike atmosphere and parking-as-combat — and remember, I was here on a Monday afternoon. God help you if you go on a weekend.
Next stop was Tuk-Tuk Thai and Asian Market (1581 University Avenue, Berkeley). They've got a pretty decent selection of thai foodstuffs in a clean, well-lighted store that won't scare farangs. The size of a small supermarket, this place has nearly all of the ingredients you'll need for a thai feast, mostly at prices that are competitive with Erawan and other local southeast-asian markets. (I found many things for less in the International Drive stores below, but you would have to make multiple stops in order to get everything you needed.) They have a small assortment of thai housewares, including special pans for kanom krok, and thai woodstoves!
There's even a small boutique of hilltribe textiles at the front of the store, and a real tuk-tuk in the middle of the place, looking cleaner than you ever saw one in Bangkok. My first impression wasn't all that good: the hot-food counter looked pretty sad when I was there (lunchtime on a Monday) — it's pretty nervy calling it a food court! — and the produce section was abysmally empty and overpriced. You'll need to stop by Berkeley Bowl on your way home: bird chiles and kaffir lime leaves are twice the price at Tuk-Tuk, and other, more exotic items are non-existent. Still, for packaged dry goods like noodles, curry pastes, and coconut milk, they've got you covered.
A couple of blocks further down University, I reacquainted myself with Erawan Trading Market (1463 University Ave). Their tiny storefront about the size of a walk-in closet stocking an amazing array of thai groceries, magazines, and videos. My motto here is: "If you don't see it, ask" — This isn't the sort of place that carries 25 bottles of each brand, so you might have overlooked it. Their produce selection wasn't as good as I remembered it being 3 or 4 years ago, but the folks working there were just as friendly and sweet as ever. I think the free parking at the motel next door is a new addition. The only thing I saw here that I didn't find elsewhere was Thai cardamom.
Deciding I had some more time to kill, I surfed over to Kasma Loha-unchit's List of East Bay Markets with Thai Ingredients. I'm probably going to come in to work late on Friday and hit the Old Oakland Farmers' Market, so I deliberately bypassed the Chinatown listings in favor of those under East Oakland.
First stop was Sun Hop Fat Supermarket (501 East 12th Street, Oakland). Recently relocated to the other end of its block, the new store is a warren of formerly-separate stores. One houses a pretty good selection of produce; another is the dry-goods section; the last is the butcher shop and fishmarket. Oddly enough, it was in the latter that I found the day's best prices on coconut milk, both Mae Ploy and Chaokoh.
Next was Sontepheap Market (1400 International Blvd., Oakland), which Kasma lists as a 2-star market (excellent). I wasn't all that impressed — their produce looked especially sad — but maybe I didn't know what I was missing. They did have a fun little housewares section.
Two tiny shops further down International were a little more interesting. Lao Market (1619 International Blvd.) had a nice selection of produce, including wild pepper leaves and pea eggplants (no wing beans, alas). May Kong (1613 International Blvd.) is just 2 doors down, and seemed to have pretty good prices on dry goods, and stocked my favorite kind of Tianjin preserved vegetable, in the ceramic crock.
Closer to home: Today on my lunch hour I went to Battambang Market (339 Eddy Street, San Francisco) in the Tenderloin, where I got to see a shooting down the block. Three ambulances, eight cop cars, and a few dozen homeless/gawkers. Oh, and fresh turmeric, and cilantro with the roots on, too. I used to shop here for the things I couldn't find at mainstream markets, and it (along with 99 Ranch in Daly City) will probably still be my go-to market for most things. I was sad to see that the formerly-decent market around the corner, variously known as Angkor Premiere Market or Tenderloin New Market (225 Leavenworth Street) has gone way downhill.
—-
Updated 4/07: A few dozen people a week wind up on this page when searching for Kanom Krok recipes. If that's ywhat brings you here, my teacher Kasma Loha-unchit features a Kanom Krok recipe on her excellent site, Thai Food and Travel.