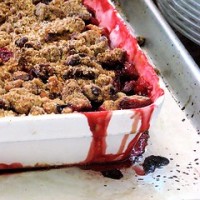 I have to brag: I spent a lovely Sunday afternoon learning the tricks of seasonal fruit desserts at the elbow of Shuna Fish Lydon, the Edible San Francisco regular who sings songs in the key of sweet (and sometimes bittersweet) over at the award-winning eggbeater. But don't be jealous: You can play, too.
Shuna's enthusiasm for this subject matter is infectious, and the class style is so intimate and inclusive that — even if you choose a topic that's all demonstration, as I did — Shuna shows you all the tricks and gives everyone enough hands-on time with the ingredients along the way that you're ready to fly solo in your own kitchen. The classes are liberally peppered with tales from Shuna's restaurant career at The French Laundry, Citizen Cake, and Gramercy Tavern, among other places you've certainly also heard of.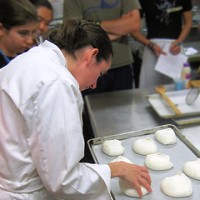 Even if you think you know it all, you're sure to find some hidden gems. One example: I make fruit crumbles almost weekly once summer strikes, but I learned a great trick for keeping the oven clean from bubble-over messes and discovered a new secret ingredient to add to my topping.
And as someone who thought she hated rhubarb, I'm here to tell you that if you learn to make it Shuna's way, you may become a convert, too. (No stringy nursery sludge here, nope.) And, talk about eating locally: The flavorings for the Meyer lemon and lemon verbena ice cream — which we ate with our vanilla-bean roasted strawberries — were sourced right in Shuna's neighborhood!
The new Eggbeater class schedule's just been posted. Check it out:
Sunday May 6, 2007: Pie & Galette Dough
Sunday May 20, 2007: Ice Cream & Sorbet
Sunday June 3, 2007: TBA
Sunday June 10, 2007: TBA
End of June: A Knife Skills Class and a Baking Class in NYC!
Mid July: A Knife Skills Class and possibly a Baking Class in Portland, Oregon!
Yep, you East Coast and Pac Northwest kids can get in on the fun, too.
Still on the fence? Take a peek at the sort of gorgeous desserts you'll learn to make (and get to eat!) and see if your willpower holds out.