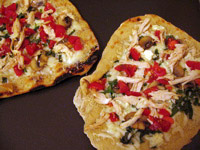 Mom had a craving for pizza, but we wanted to stick around the house to be with Dad. It was way too hot to turn on the oven, so we considered the grill. Cook's Illustrated had a grilled pizza recipe [*link removed] that sounded pretty good (and less elaborate than the Mario version in Food+Wine), so off we went.
We had a little chicken left from dinner the previous night, and plenty of basil from a friend's garden. Mushrooms, fresh tomatoes, and mozzarella cheese rounded out the toppings.
The dough's pretty wet, so it takes a well-floured hand — and all the tricks listed in the recipe — to get it rolled out. Even then, three of the four pizzas more closely resembled free-form amoebas than nice, round pies. But they sure did taste good… maybe not as good as real pizza, but a nice weeknight option (and a great way to use up leftovers).
—
* Edited to add: We removed the link to the Cook's Illustrated pizza recipe in July 2008 in protest of their bullying tactics.