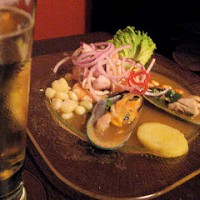 Sometimes, we just don't post because we're not eating anything interesting, and there's just nothing to talk about. But I can assure you, that has NOT been the case these last couple of weeks. We've been eating our way around the bay, scheduled to the breaking point: Out of the last 11 evenings, we've had nine social engagements. No wonder I'm exhausted!
Our little foodie death march all started back on Tuesday the 15th, with my second of four sessions in Kasma Loha-unchit's Thai cooking classes. I'll post a complete wrap up at the end of the series, but suffice to say that if you're looking to learn more about Thai cooking, look no further.
Then that Wednesday, we met up with DPaul and Sean to say farewell to our mutual friend Matt (who's taking a sabbatical from San Francisco for a while) over a sangria-soaked supper at Piqueo's, Bernal Heights' new Peruvian cevicheria and small-plates joint. Although the impossibly long menu was nearly entirely different from our first visit a month or so ago, we enjoyed almost everything we've tried there so far.
Thursday of the same week found us stuck in traffic on the Bay Bridge approach, on our way to The Blue Door at Berkeley Rep. A car-snarl from hell — more than an hour from SoMa to the Bridge, thanks — meant we missed our Downtown reservations by more than an hour (we called!) and our consolation snack at North Beach Pizza was grim in every way possible. Truly, we were expecting mediocre but fast, and ended up with slow and barely edible.
Saturday we hit the Ferry Building market in the morning, running into Tea at the Rancho Gordo stand. Farmer Steve's sure the popular boy these days, with dozens of folks stopping by to congratulate him on his much-publicized (and bilingual!) defense against Carlo Petrini's ill-mannered slagging of the FPFM's farmers and customers alike. Everyone must've bought a bag or three of beans as they stopped by to say "Good on yeh!" to Mr. Sando — many varieties were already sold out by the time we strolled up.
That same afternoon, we hosted two sets of friends and their 2-year-olds for a summer supper of bacon-cheeseburgers, mac salad, and red cabbage slaw, with complete strawberry crisp for dessert. The junior guests had as much fun as their mommies and daddies: Little Toby rocked out on guitar with Cameron, and Miss Martha endeared herself to everyone with sweet hugs and adorable curiosity.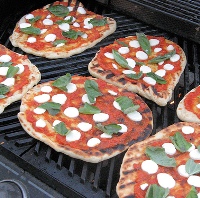 Monday night, an impromptu get-together chez nous. Tea was in town for the week, so we invited her, plus DPaul and Sean (are they sick of us yet?) — and their sweetie-pie girl Reese — over for dinner. We snacked on pencil-thin asparagus dipped in homemade aioli while we tried out yet another recipe for grilled pizza. I'm still not convinced we've found a keeper in the pizza department, but the season's first peach cobbler proved a hit all around. And when we saw Tea later in the week, she declared that the chopped salad we served with the pizza had earned a slot on the menu of foods she expects to find in heaven. (Flattery like that will get you invited back!)
Tuesday was Thai cooking class again, and Wednesday another dinner to-do: Cameron's cousins and their 2-year-old (we're toddler magnets!) were in town from Houston, on their way to Yosemite for the long weekend. Little Camden gobbled a Prather Ranch hot dog while the grownups feasted on tri-tip grilled up Santa Maria style (rubbed with an equal mixture of salt, pepper, and garlic powder moistened with oil), sliced thin and served with guacamole on Rancho Gordo tortillas, with a side of beans a la charra. And yes, another quickie dessert: Pear-rosemary crumble, and vanilla ice cream.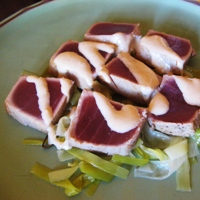 Tonight we met up with a gaggle of cool food bloggers from SF, the East Bay and beyond for dinner at Berkeley's stalwart O Chame. We loved every appetizer we shared — especially the seared ahi cubes and their lovely horseradish drizzle, the grilled shiitake mushrooms with fresh asparagus, and the snackalicious green-onion pancake blocks. Our soba and udon bowls were so-so (flavorful broth, but overdone noodles) but scoops of balsamic vinegar caramel ice cream were hauntingly good… and rapidly gone.
A short stroll down 4th Street led us to Cody's Books, where we listened to the charming Clotilde speak about her progression from software developer to food blogger to published cookbook author. She gave us all a chuckle when she spoke of the oddness of being a Frenchwoman writing an English-language food blog — to the consternation of some of her compatriots, she confessed — and her passion for 'dangerous' recipes like souffles and gougeres, where a cook never knows whether she's destined for dinner or disaster. (Clotilde's signing books Saturday afternoon in San Francisco, in case you'd like to meet her and get a copy of her lovely new book.)
Tomorrow? Ugh. I'm more than a little bit sick of cooking, and yet I don't think I could bear the pressure of going out somewhere new, or even someplace fancy. So… we have reservations at Range, our delightful standby, where they know us just well enough that we can all relax, but not so well that we have to be social. I'm liking that idea a lot. I wouldn't have missed a single night of the last 2 weeks, but I am sure glad that it's done.
I'm half hoping that the bounty of the farmers market on Saturday snaps me out of my apathy, but I won't be surprised (or even too sad) to find that I've burned out on planning, prepping, and putting food on the table… at least for a while. We've got a freezer full of incredible leftovers from the last six weeks of new-kitchen cooking frenzy, so it's not like we'll go hungry.
As we slow down a bit, I'm aiming to do a better job posting here on a more-regular basis. I've got a backlog — five posts' worth and counting — of recipes, photos and stories that should last through a week of diminished cooking capacity. In the meantime, I'll tide you over with a recipe for an simple (but apparently impressive) salad that's quick enough for everyday, but with a just enough company-class touches for a weeknight dinner party on the fly. You can vary the vinegar, the cheese, the herbs, and even the olives to complement your main course.
Heavenly Chopped Salad
(adapted from Food & Wine, September 2006)
2 T mild vinegar (such as cider, champagne or sherry)
1 tsp. fresh lemon juice
1 small shallot, chopped fine
1/4 cup extra-virgin olive oil
Salt and freshly ground pepper
—–
2 cups chopped lettuce or baby greens
4-5 small Belgian endive (preferably red) halved, cored and coarsely chopped
1 English or Japanese cucumber, peeled and cut into 1/2-inch dice
1 pint grape tomatoes, halved
2T to 1/4 cup coarsely chopped chives (or other herbs, as you prefer)
3/4 cup pitted kalamata olives, halved (or other olives)
1/2 pound feta (or bleu) cheese, crumbled
Whisk the vinegar, lemon juice, and shallot in a medium bowl. Whisk in the oil until emulsified, and season the dressing with salt and pepper.
Combine the remaining ingredients together in a large bowl. Add half of the dressing, season to taste with salt and pepper, and toss. Add the remaining dressing (or less, to taste) toss again, and serve.
serves 6