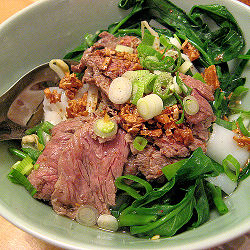 At this very moment, I'm on my way to Oakland for the last session in my third series of advanced classes with Thai cooking expert Kasma Loha-unchit, the award-winning author of It Rains Fishes and Dancing Shrimp. Since it takes a year or more to complete the prerequisite classes — and chances are good you've heard me rave about Kasma before — I won't torture you with the details of the truly delicious food we're making …although you're welcome to peek at the photos on Flickr, or check out my last class recap of Series B.
But… if you're interested in starting down your own path to culinary liberation (and really, who doesn't want to be able to cook better Thai food at home than you can buy at any restaurant outside of Thailand?) you're finally in luck. Kasma's just this morning opened up three new Beginning Thai Cooking series for fall 2008:

September - Mondays, Sept. 8, 15, 22 & 29
- Tuesdays, Sept. 9, 16, 23 & 30
October – Mondays, Oct. 6, 13, 20 & 27
(There's also a single Intermediate series and a single Advanced set, but I'm presuming that anyone who's met the prerequisites for these has already gotten word of them.)
Each 4-session series costs $175, which includes 16 hours of hands-on instruction and full meals. More details about the classes — including menus — can be found on Kasma's site, Thai Food and Travel.
But do hurry: The beginning classes, especially, fill up faster than you can say "bpoo pad pritkai dâm pkap kreuang tehd" (or even "Black-Peppered Crab with Roasted Spices"… ) Send a request to hold your space to kasma[at]earthlink[dot]net, and be sure to send along second- and third-choice dates to avoid disappointment.