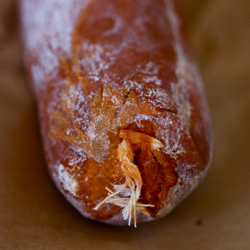 I first read about 'nduja — a red-hot Italian meat paste that's pronounced "en-DOO-ya" — in Saveur magazine, ages ago. Despite being the sort of foodstuff that's right up my alley (hello, chiles and pork… together?!), I never seemed to be able to put my hands on the stuff. We'd heard rumors of a stall at London's Borough Market selling 'nduja, but our travels there never seemed to line up with their production. It seemed we'd have to make a trip to Calabria for the real thing, or go without.
All that changed last month, with the introduction of locally made 'nduja from Chris Cosentino's Boccalone Artisan Meats. This spicy, spreadable salami's quickly become the darling of the Bay Area carnivores, complete with an adorable nickname and mouth-watering coverage in all the hip spots.
But as delicious as it is when simply spread on a slice of baguette or a cracker, it seemed sacrilegious to snarf down such a long-sough treasure as an appetizer. Searching for other options, I came up with Gina DePalma's very loose recollection of an 'nduja-centric pasta dish she whipped up in her Roman kitchen. Despite not being much of a recipe — it lacked both measurements and timing cues — our first attempt at reproducing it turned out incredibly well, if I do say so myself. (You don't have to take my word for it: Our friend Matthew, a former restaurant critic for the Seattle Times, pronounced it "as good as anything I had in a restaurant" during his visit to San Francisco.)
Now, I'm not sure I'd pick this humble pasta over an evening at SPQR or Contigo, but the dish was far more delicious than the effort it took to whip together. We nearly always have some dried pasta and a frozen container of leftover beans in the freezer; if I just keep a package of 'nduja around, we'll never lack a quick, weeknight supper.
The hardest part of the recipe may be getting your hands on the 'nduja, which isn't hard at all if you live in or near San Francisco: They sell it at the Boccalone Salumeria at the Ferry Building. For those of you farther afield, there's always mail order (or a trip to Calabria?). Once you get your hands on the necessary ingredients, free to wing it with the ratios, just as we did. With such flavorful ingredients, I'm sure it'll be just as good.
Pasta e Fagioli with 'Nduja
- adapted from Gina DePalma
1 cup dry white beans
1 small onion, diced
olive oil
1 sprig rosemary
1 bay leaf
salt and pepper, to taste
1 carrot, peeled (if needed) and diced
1 stalk celery, chopped
2 cloves garlic, minced coarsely
4 oz (1/2 chub) cured 'nduja, broken into chunks
8 oz dry small pasta, such as shells or ditalini
more olive oil, for garnish
hard Italian-style grating cheese, such as Pecorino
Soak the beans in enough water to cover by double their height, overnight if possible. When beans are soaked, heat a medium saucepan over medium-low heat; saute the onion in a good amount of olive oil until soft but not brown. Add the beans, their soaking liquid, rosemary, and bay. Bring to a hard boil for a few minutes, then reduce heat to a gentle simmer and cook until beans are beginning to become tender, but still firm. (This will take anywhere from 45 minutes to 3 hours, depending on the age of your beans and the length of their soaking.) Add the salt and pepper to taste, and simmer for another 10 to 15 minutes. At this point, you can discard the herbs and cool the beans in their liquid for later use.
When ready to bring the dish together: If you've made the beans ahead, gently warm them in their liquid in a small saucepan. Cook the pasta, stopping a minute or two before the cooking time on the package; drain and set aside. Meanwhile, heat a large skillet and add 2T olive oil. Saute the carrots and celery until soft; add the garlic and saute another minute. Add the 'nduja, pressing to break it up and melt it as it heats. Add the beans and a small amount of their cooking liquid to the 'nduja pan, along with the cooked pasta. If the mixture is dry, add more bean liquid until it's wet; simmer a few minutes to allow the flavors to come together.
Divide the pasta into two or three warmed bowls. Drizzle with olive oil and top with shredded cheese.
---

This recipe is our entry for the inaugural week of
One Local Summer 2009
, hosted by
Farm to Philly
, with Western Region posts graciously recapped by
Columbus Foodie
. Just like
last year
, we'll be exploring and honoring the foods from our local farmers and producers with at least one meal each week made from 100% local ingredients. We're not declaring any exemptions this time — other than salt and spices — and our radius will be 100 miles.
Farmers and food artisans who created the ingredients for this week's meal:
Iacopi, Half Moon Bay: Italian butter beans
Catalán Family Farm, Hollister: Onions
Bariani, Sacramento: Olive oil
Star Route, Bolinas: Carrots
Chue's Farm, Fresno: Celery and garlic
Boccalone, Oakland: 'Nduja
Eduardo's, San Francisco: Pasta shells
Joe Matos, Santa Rosa: St. George cheese
….plus rosemary and bay leaf from our garden