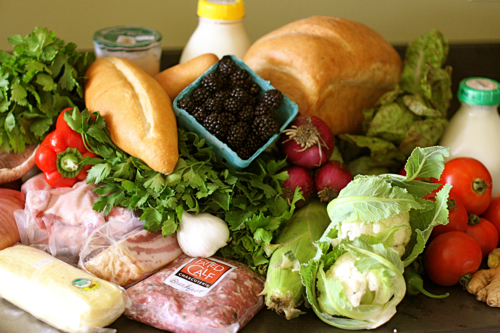 Our weekly shopping haul; One Local Summer, Week 13

—–
Unless you've been in a self-imposed media blackout, you may have heard about the party that Alice, Carlo, and friends are throwing here in Our Fair City. And you'd probably guess that a pair of diehard food dorks like us would be camped out in line, waiting for the chance to storm the gates first thing in the morning, wandering through the Victory Garden as we sample a continent's worth of canapes in the dappled summer sun.
But the fact is, we live a Slow Food Nation life all the time. We spend practically every weekend grazing around the City and around the Bay Area. We live in a community where our oddball food choices have become fairly mainstream. We hang out with a crowd of thoughtful food-worshippers who can carry on a spirited debate about how to balance being a locavore with being a (small-c) chowhound.
We're truly blessed to make our home here in the epicenter of the local, organic, sustainable food movement. San Francisco's a city where it's hardly a challenge at all to eat well and eat ethically… so much so that I get fairly bent out of shape when circumstances or travel force me to do otherwise.
So, no — No "Foodstock" for us. Happily, we have a lot to do this weekend:
- Buying our weekly groceries from the people who grow/make them
We do this every week at the Ferry Plaza Farmers Market, but just to make it interesting — and to bypass the frenzy of out-of-town foodies descending there this weekend — we're heading across the bay to the Berkeley Farmers Market. We'll see some of our usual vendors there, but I'm looking forward to exploring new stalls and new ingredients.
- Putting up food to preserve the harvest
Later in the day, we'll pick up 100 pounds of San Marzano tomatoes at Mariquita Farm's "guerilla veggie" drop-off. Later in the weekend, we'll be hauling out the pressure canners and turning them into puree, marinara sauce, and whole canned tomatoes to feed us through the winter
- Supporting restaurants that support local farms
Mariquita's making their drop at Piccino, so we'll have a chance to experience their brunch for the first time. The fact that Sher and Wayne — like so many other San Francisco restaurateurs — procure so much of their raw ingredients from the same farmers and artisans that we buy from makes me inexplicably giddy.
- Exploring the food traditions of our neighbors
Saturday night, we're heading out to a family-run ethnic restaurant with a group of food-obsessed friends. Later in the weekend — if we get our canning done — we'll visit a Thai food festival put on by the local Buddhist temple at Golden Gate Park. Neither of these experiences are Slow, in the sense of using exclusively sustainable/local/organic ingredients, but supporting ethnic foodways is an essential part of being a citizen of our city and the world.
- Celebrating the bounty of our region
On Monday, we're having some friends over for a little nosh. We'll eat some pâté and peaches, sharp cheese and homemade plum chutney. We'll drink local bubbly, sip homemade pear brandy, maybe even shake up a cocktail using artisanal spirits. Later there'll be farmers-market pasta tossed with some of the marinara sauce we made earlier, maybe baguette slices spread with pesto. A pie, perhaps… made with a local-flour-and-butter crust (learned from a friend who also happens to be a local treasure) and filled with yet more amazing farmers market finds.
—-

Am I conflicted about opting out of the Slow festivities? Absolutely. I'm already drooling over the Slow on the Go and Taste Pavilion tidbits showing up in friends' Flickr streams. By all accounts, the Friday events have been beautiful, interesting, and delicious. I hope that they keep it up, because the people who've traveled here from all over the world deserve it. And so do the farmers, food-makers, and volunteers who are going all-out to make a fabulous impression.
But on the other hand, I know we'll make the perfect slow celebration, in all the ways that matter most to us, just as the folks visiting our city and our local producers will have theirs. Either way, I can't think of a better way to celebrate Labor Day than by honoring the backbreaking effort — both physical and political — that our farmers and artisans spend to put quality food on our tables.