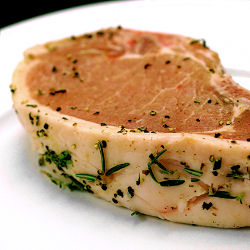 I have to say right up front, I never was a big fan of the whole brining craze. I mean, yeah, sure — you pump a turkey or chicken full of salt water, and it stays moist… but the white meat ends up with all the texture of an old sponge.
Some pundits (and yes, I'm looking squarely at you, Chris Kimball) prescribe brining as a panacea for nearly every meat, and a few types of seafood, too. But, really, why not start out with a nice piece of meat to begin with and treat it right? After a few squishy suppers, I learned my lesson: Whenever I see "brined" on a menu or in a recipe, I cross it off my list.
But our dinner last week at Nopa got me thinking again. I ordered the justly famous pork chop, and it was everything pork should be, but seldom is: Meaty, juicy, chewy, and flavorful. As I raved to our server, she explained that the delicious Napa-raised pork they use doesn't need much help. But then she added that a quick 4-hour brine helps boost the flavor so that every bite is seasoned, without turning the texture to wet-paper-towel consistency.
A chop this good is enough to make a brining convert out of even a curmudgeon like me. Determined to repeat the brined chop at home, I turned to the cookbook from the last restaurant where I really remembered being wowed by a pork chop. And wouldn't you know it: They quick-brine their pork at Boulevard, too. The original recipe calls for making a brine with hot water, then chilling it in the fridge before adding the meat. But I'm lazy and I need to keep moving on the weekends or else nothing gets done. So I cut back on some of the liquid in the dissolving step, and added it back in — in the form of the chicken-stock cubes we keep on hand for sauce-making — to cool the brine in an instant. (If you don't keep your extra stock in ice cube form, you can always use plain old ice.)
Into the briny deep went a gorgeous Marin Sun Farms chop — a good, thick one we picked up at the farmers market. After its bath and a subsequent drying-out rest in the fridge, we grilled it over medium heat, to avoid scorching the exterior. On the side, we roasted some of Mr. Little's gorgeous fingerlings in a mix of Spring Hill butter, Sciabica olive oil, our own herbs, and a healthy scattering of gorgeous young Rocambole garlic. We made a pan of Dirty Girl haricot verts using our favorite stovetop method and enjoyed the lot with our pairing this week: Fox Barrel hard cider, the same as we used in the brine.
Quick-Brined Pork Chops
- adapted from Boulevard: The Cookbook

1 cup hot water
2T kosher salt
1/4 cup packed brown sugar
1/2 cup hard cider
1T crushed black peppercorns
1T Dijon mustard
5 sprigs thyme
2 tsp chopped fresh rosemary leaves
1/2 cup unsalted chicken stock, frozen (or crushed ice)
2 thick-cut pork chops
Combine the water, salt, and sugar in a large bowl or glass measuring cup, stirring until the salt and sugar dissolve. Add the cider, peppercorns, mustard, thyme, rosemary, and frozen stock. Stir the brine until the stock melts; if still warm, refrigerate until cool.
Put the chops in zip-top bag, and pour the cooled brine over them. Seal the bag, squeezing out as much air as possible. Put the bag in a bowl or glass pan, and arrange or prop up the chops so that they're standing edgewise. (You want the brine to be in contact with both of the cut sides of the chop. In my small mixing bowl, I can put the chops on their edge and lean them up against the side. If this isn't possible, just be sure to flip them midway through the brining time.)

Refrigerate the chops for 1-1/2 hours, or up to 4 hours — no more, or you will have mush. (And if you're using thinner chops, an hour is plenty!) About 90 minutes before cooking, remove the chops from the brine, and pat dry. place on a plate (or, ideally on a rack over a rimmed baking sheet) in the fridge to dry out the surface a bit, and to allow the brine to equalize throughout the meat. 30 minutes before cooking, bring the chops to room temperature, and preheat your grill or oven. (Heat grill to moderate-high heat, oven to 375°).
When chops are at room temperature, season lightly with salt and pepper on both sides. To grill, cook in your usual fashion to medium temperature (140° to 150° before resting time) — timing will vary widely based on the thickness of your chops and the heat of your grill. If cooking in the oven, heat a large, oven-roof skillet over medium heat. (Brining does speed up browning, go a little cooler than you may be used to for searing meat.) When hot, add olive oil just to coat the pan; when hot again, add the chops and cook for 2 to 3 minutes, until golden, Turn the chops over, and move the pan to the preheated oven for 10 to 15 minutes.
When the meat reaches temperature — either on the grill or in the oven — remove from heat and let rest for 5 to 10 minutes. (If you finished in the oven, you can make a simple pan sauce.) Serve with your favorite seasonal accompaniments.
—-
* Edited to add: We removed the link to Cook's Illustrated in protest of their bullying tactics.