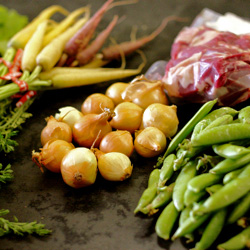 Compared with other parts of the country, most of the Bay Area's food-growing regions benefit from amazingly temperate climates. Our summers here are so mild that we never really lose our early crops. We're able to buy all those little springtime dainties — sugar-snap peas, baby carrots, and tiny onions — deep into August.
It's a little joke of nature, of course, because the summer months in San Francisco feel like the worst parts of everyone else's schizophrenic spring. You know that "in like a lion, out like a lamb" effect that people ascribe to March? Well, here we get it all in a single August weekend. Repeatedly.
For every warm and sunny Sunday where all you want is a summer supper of insalata caprese and a nibble of grilled chicken, there are twice as many foggy, grey Saturdays where something a little more substantial is in order. Not that we're hauling out the cassoulet or anything, but our summertime cold snaps are so inevitable that we almost always plan a stew or braise each week, to haul out when the fog rolls in.
But even when the mercury dips down into the 40s, I have a hard time getting behind ultra-heavy dinners. The nights are still short, after all, and we've probably had at least a glimpse of sun during the day. So I prefer a compromise; a stew that's almost spring-like, with a lighter air about it.
In France, you'd probably serve a lighter braise like the one we made this week in springtime, with a glass of rosé and a loaf of crusty bread. But, socked in by fog so dense we could barely see the neighbors' yard, we opted for a pile of mashed heirloom potatoes and a half-bottle of local Syrah.
The good news is that the best is yet to come: The true beauty of San Francisco weather is our Indian Summer. When the rest of the world is gearing up for deep autumn, our farmers will still be pulling in corn, tomatoes, and all the other high-summer crops. But for now, while we slip on our sweaters, a stew will do.
Navarin Printanier — Braised Lamb with Young Vegetables
1 large thyme sprig
1 rosemary sprig
1 bay leaf
6 whole black peppercorns
2 pounds lamb stew meat
olive oil
1 small onion, small dice
3 cloves garlic, minced
1 cup dry white wine
2 cups beef stock
12 pearl onions
1/2 lb baby carrots, trimmed and scrubbed
1/2 lb sugar snap peas, trimmed
2 T unsalted butter (room temperature)
3 T all-purpose flour
Preheat oven to 300°F. Put the rosemary, thyme, bay leaf, and peppercorns in an infusing ball, or tie into a square of cheesecloth.

Trim the stew meat of all excess fat, and cut into 2-inch pieces; season with salt and pepper. In a 4-quart pot, heat enough olive oil to coat the bottom of the pan, and brown meat in as many batches as needed to keep from crowding the pan. As each piece becomes well browned, remove it to a bowl with tongs or a slotted spoon. Continue with remaining meat, adding more oil as needed.
After all meat is cooked and resting, add onions to the pan. Cook over medium heat until softened and beginning to color. Add minced garlic and continue to cook until onions are golden. Add the wine and the stock, scraping the bottom of the pan to loosen any browned bits. Return the meat and its juices to the pan, along with the herb ball. Bring to a simmer on the stovetop, then cover and put in the preheated oven for 60 to 90 minutes.
While meat is braising, prep the vegetables. Place a large bowl two-thirds full of ice and water near the stove. Bring a large pot of salted water to a boil, and cook the unpeeled pearl onions until tender; timing will vary greatly depending on size and freshness of your onions. When tender, remove with a slotted spoon to the ice-water bath to cool, reserving the boiling water. Parcook the peas next, and remove to the ice-water bath when cooked through but still bright and snappy. Finally, parcook and chill the baby carrots. When all vegetables are cooked, drain them in a colander. Peel the onions, being careful not to remove too much of the root, and set aside with the rest of the vegetables until lamb is cooked.
When the meat is just tender but not falling apart, return the pan to the stove over medium-low heat. Adjust seasonings with salt and pepper, then scoot the meat to one side of the pan. Stir together the butter and flour to make a paste, and add it, bit by bit, to the simmering braising liquid to thicken the juices to a gravy-like consistency; you may not need all of the paste. When you get the thickness you like, stir the meat back into the sauce and simmer for another 2 minutes to allow the flour to cook out. Add the vegetables to the pan, and cook just until heated through. Adjust again for salt and pepper, and serve.