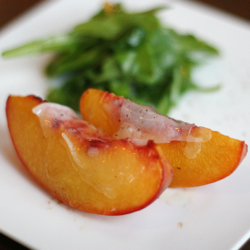 Aside from grinding and stuffing a few pounds of sausage now and then, curing meats is a task — much like beer-brewing and bread-baking — that I am more than happy to leave to the experts. Don't get me wrong: I love getting up to my elbows in fatty meat and curing salts and aromatics. But when you have local artisans like Fatted Calf, even the most enviable meat-curing skills become obsolete.
To say we're big fans of the work that Taylor Boetticher, Toponia Miller, and the rest of the Fatted Calf crew are doing is a huge understatement. We've spent the last two years gleefully eating our way through their entire offering, and there's barely a thing we've tried that didn't make us squeal with delight. Their smoky bacon is heaven in a frying pan, their rind-on pancetta is nothing short of funky-fabulous. Their beef jerky is addictively awesome, and their pâtés and terrines are a slice of savory joy. Their sausages — especially the Toulouse and the andouille — are light-years better than anything we make at home.
So when we heard that Piccino — a jewelbox cafe/restaurant in Dogpatch, the next neighborhood over — was hosting a supper featuring Fatted Calf products, cooked jointly by Taylor and the Piccino crew, we reserved two slots as fast as our little fingers could email the RSVP.
I should add at this point that Cameron and I have mostly given up on these sorts of one-night foodie extravaganzas. It's too easy to get your expectations set impossibly high, or to calibrate each bite to the fantastic sum of money you've spent. We went against our usual stance this week for two reasons: Piccino is precisely the kind of restaurant we love — a cozy neighborhood space with a short, ingredient-driven menu that actively supports local farmers and food artisans — and because we can't get enough of Fatted Calf.
On the night of the meaty meal, we gathered on the sidewalks in front of Piccino's corner doorway. Happy gaggles of diners shunned the interior and spread down each street, glasses of deep-pink rosé in hand as we savored a rare, warm San Francisco summer evening. We hung back for another reason, too: We weren't sure how we would all fit into the small dining area. Eventually, we were called to the communal table, so we squeezed onto the banquette, tried not to knock elbows with our neighbors, and wondered just what we'd gotten ourselves into.
We needn't have worried. By the time the second course (and third glass of wine) rolled around, we'd been utterly, completely won over. There were some service mishaps — one end of the table missed out on a pizza that somehow got misdelivered not once but three times — but these were forgivable, almost-funny oversights. We were chatting with our neighbors quite amiably by this point, companionably sharing platters of assorted charcuterie and a casuela full of lightly pickled, jewel-like vegetables.

For the next course, we each got our own plates… a wise move, as I suspect that riots might have broken out otherwise. Who could be trusted to share a perfectly ripe Hamada Farms peach, draped with tissue-thin lardo, accessorized with a bitter-crisp salad of baby dandelion greens? (Hint: Not me.) Next up came an inspired riff on pork and beans: Shelling beans cooked to a toothsome creaminess, garnished with crisp-chewy pork rillons and melted Early Girl tomatoes.
Then, the main course platters filled the table: unctuous smoked lamb; bowls of fregola with charred young onions and baby potatoes; marinated eggplant with roasted gypsy peppers and capers; golden beets with their own sauteed greens, tarragon, and ricotta salata; and an out-of-this-world mint chutney. After hours of joyful din, passed platters, copiously refilled glasses, and a bevvy of spontaneous toasts to the kitchen, we were struck dumb. Everyone, all down the table, sat nearly silent, in awe of the fabulous food.
We hardly had room for dessert, but we bravely soldiered on. Plates of figs in various stages of caramelization arrived, dolloped with sheep's milk fromage blanc, decorated with strawberries, and accompanied by an almond tuile. We lingered in the candlelight, talking with new acquaintances and exchanging plans to run into one another at the market next weekend. When I looked at my watch, I was stunned to see it was nearly midnight: We'd passed 5 hours in a magical space that somehow seemed to have grown larger, filled with conversation, light, and laughter.
To me, the most amazing thing about the whole meal was that (with the exception of the fregola and the wines) everything we ate came from within our local foodshed. The lamb was grown on the same Napa homestead as the shelling beans, both brought to Taylor as part of an over-the-fence trade with a prolific neighbor. Like all of Piccino's regular meals, the vegetables and fruits for the evening were sourced from local farmers; many of their names graced the menu.
Although this was a one-time event, we're already looking forward to going back to Piccino often. (I've stopped in a few times for a glass of wine and a bite to eat after picking up my Mariquita mystery box, but I haven't really tried a whole meal there. That's going to change.) And, if you're in the mood for an epic food evening like ours, check out the Piccino schedule; there's another meat dinner scheduled with RoliRoti's Thomas Odermatt in October, and a mushroom feast with Far West Fungi in November.
Piccino Café and Pizzeria
801 22nd Street
San Francisco, CA 94107
415/824-4224
Fatted Calf Charcuterie
Oxbow Public Market
644-C First Street
Napa, CA 94559
707/256-3684
- Also sells most products at:
Berkeley Farmer's Market
Saturday, 10 to 3
Ferry Plaza Farmer's Market
Saturday, 7:30 to 2