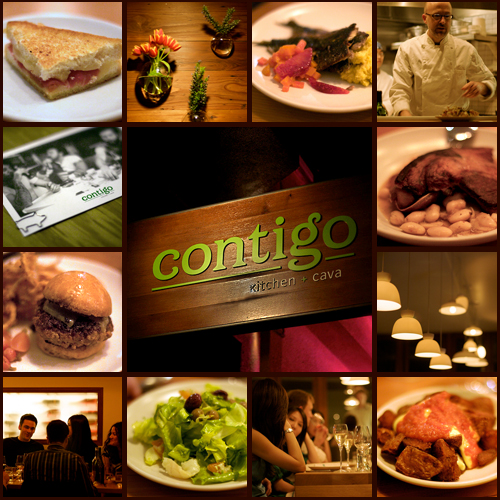 Meeting a friend you've only known online can be a nervous affair. Will you get along? Will they be cool in person? What if they have a funny voice and a big nose? When the moment comes and they turn out to be even more fabulous than you'd hoped, the elation feels like a glassful of Champagne… or cava in this case.
Elation was definitely the order of the evening Saturday night when we finally met Contigo, the new Spanish restaurant from our friend, Chef Brett Emerson. If you're a fan of his blog, In Praise of Sardines, you're probably familiar with the saga of Contigo's opening, from the thrill of Brett's snagging of a rare new-restaurant permit in Noe Valley, through the agony of multiple construction delays. I don't know how Brett feels, but after tasting his food at a friends-and-family dinner before Contigo's formal opening, I think all the drama was all worth it.
The space is beautiful, simultaneously contemporary and cozy. It's not large, but it feels expansive thanks to five distinct dining zones — chef's counter, lower dining room, cava bar, upper dining room, and a heated, covered outdoor patio surrounded by herb gardens.
Contigo's ingredients are locally sourced, but not slavishly so — there's jamón from Spain (and Iowa), alongside meat and vegetables from the usual assortment of local farms. And the food on the plate is every bit the equal of its gorgeous environment. We had a devil of a time deciding what to order; everything sounded appealing. Like an Iberian version of our favorite SPQR, Contigo offers an assortment of small pica-pica plates ($8 each, or $21 for three). Venerable tapas like crisp patatas bravas and marinated sardines take their place alongside an assortment of salads with Spanish twists. In the latter category, we loved the remojon: salt cod, oranges, and olives atop white radicchio.
We tried a couple of larger platillos as well. The juidones a la segovia were a dreamy assortment of delectable pork parts (belly, ears, yum!) atop creamy butter beans. The chorizo-y txistorra burger was fabulous, but be ready to share it with a friend; it's too good to miss, but a little too rich to eat as an entree.
We weren't sure how we managed to save room for dessert, but we were happy we did. We made short work of the not-too-sweet almond cake, filled with a dollop of pastry cream and a schmear of olallieberry preserves, a sweet nod to the restaurant's history.
Contigo opens tonight, and there's sure to be a line; reservations are accepted only for parties of 6 or more. But there's a stand-up drink rail along the entryway, where you can enjoy a glass of cava and a nibble or two while watching the cooks work their magic in the beautiful open kitchen.
Contigo Kitchen + Cava
1320 Castro Street (x 24th Street)
San Francisco, CA 94114
415.285.0250