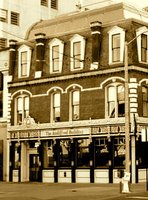 Back in the ancient days, before I was Mrs. — yea verily before the dot-com boom — Boulevard was the place we always went for special occasions. We dined here Monday night to celebrate Cameron's newfound employment, and it tickles me to no end that Boulevard is just as good as ever.
The service has gotten a little more sniffy, the clientele noticeably more swank, and the prices (never a bargain to begin with) have climbed proportionally. But the Beaux Arts decor is still gorgeous, the wine list is still deep without being impenetrable, and — most importantly — the food's still creative without being too far out in left field.
There were a couple of missteps in our recent dinner — a desperately over-dressed salad, a server who left us sitting without water or drinks or so much as an "I'll be right with you" for nearly 15 minutes, an awkward gap between the appetizers and the mains — but all was forgiven when our entrees arrived.
My heirloom pork chop was easily the best pig I have eaten in the states, perfectly cooked and richly porky with a perfectly salty, herbal flavor. And the accompanying pyramid-shaped raviolo was like a minature meal in itself: mascarpone mashed potatoes on the bottom, with shredded wild boar ragu in the top. Yum!
It's nice when old standbys age well. I hope that Boulevard will still be around serving excellent food when we're celebrating our 20th anniversary.
Boulevard
1 Mission Street
San Francisco, CA 94105
415.543.6084