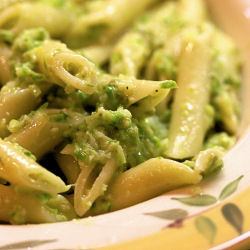 The weekend before last, I noticed a sign hanging from our favorite asparagus stand: "Last week at the market!" Stunned, I quickly grabbed a bunch of fat spears, as though somehow I could prolong the inevitable if I only moved fast enough. I laughed at myself as I paid the farmer, then sighed every time I opened the bag to put something else in: the… last… asparagus. It's just impossible to believe that this quintessential spring vegetable is already done.
Truthfully, I've eaten my fair share of asparagus this spring: Baptized in butter and lemon juice, wrapped in pancetta and roasted, kissed by the smoky love of the grill, shaved raw and stacked with Parmesan shards, pureed into an ethereal chilled soup, topped with a poached egg and sprinkled with buttery breadcrumbs. Truly, my love of sparrow grass knows no bounds; I think nothing of eating it every time I see it on a menu.
But no matter how often I indulge, I'm never ready to see asparagus go. Given my obsession, you'd think — any reasonable person would — that I'd have run home from the market and enjoyed my haul before the dew was dried from its tips. But no, I'm a miser: I squirreled it away, wanting to prolong my personal asparagus season as long as possible.
Maybe I was in denial that the end was near. What other plausible explanation can there be for the fate of that prized bunch of the season's last spears? Dear readers, forgive me: I left them in the produce drawer all week. Completely and utterly forgot about them, until the weekly fridge-cleanout exposed my error.

All's well that ends well, though. Less-than-perfect asparagus gets a new lease on life when whizzed into a savory spring pesto, which in turn makes a more-than-perfect dinner for the inaugural week of One Local Summer. This summertime locavore challenge asks participants to cook a weekly meal from 100% local sources. A stunning 136 participants representing 30 states are joining the festivities, hosted by Farm to Philly with West Coast recaps from a familiar face: Laura at Urban Hennery.
Even between challenges, we've still been eating locally as much as we can — nearly every meal we cook at home is made from 85-95% locally grown or locally produced foods. But since One Local Summer only asks us to document one meal a week, we're going to be stricter on ourselves than we have been in the past. We'll source everything (even proteins) from within 100 miles, and our only exceptions will be salt and spices. Herbs, oils, sweeteners, even beverages will all come from our immediate foodshed.
—–
But back to the pesto: You might think that a meal made from over-exposed produce and a few pantry staples might taste like a thrown-together mess, but in all honesty nothing could be further from the truth. A judicious removal of all fibrous or discolored bits, followed by a brightening blanch in well-salted water cures a lot of ills when it comes to green veggies. It was our favorite meal of the week, and then some: Cameron and I fought over the leftovers, a sure sign of a recipe that's bound for heavy rotation — I only wish we'd discovered it sooner.
Along with the neglected Zuckerman asparagus, our pesto contained a good lashing of Bariani's sumptuous olive oil, a blizzard of Vella dry Jack cheese, sweet blanched almonds from Alfieri Farms, and beautiful young garlic — not quite green, but with still-supple skins and a glorious round flavor — from Green Gulch Farm. Served over Eduardo's locally made penne, these bright flavors balanced perfectly with the earthy, smoldering notes of Fatted Calf's coiled Basque sausage and a fruity bottle of Souverain sauvignon blanc.
A fitting farewell to spring if I do say so myself.
Penne with Asparagus Pesto
1 bunch asparagus (about 1/2 pound before trimming)
8 oz dry penne pasta
1/4 cup blanched almond slivers
2 medium garlic cloves
1/4 teaspoon salt
1/4 cup extra-virgin olive oil
1 ounce freshly grated Dry Jack (about 1/3 cup), plus more for garnish
Fill a Dutch oven or other large pot with water. Salt well, and bring to a boil. Meanwhile, prepare an ice-water bath in a medium bowl.
Snap the woody ends from the asparagus. Cut the stalks into 2-inch lengths, keeping the tips separate. When the water comes to a boil, blanch the stem pieces until they turn bright green and tender, then remove them to the ice bath using a slotted spoon. Repeat with the tips, which should take about half as long. Keep the pot boiling for the pasta while you drain the chilled asparagus well and blot it dry.
In a food processor, pulse the almonds, garlic, and salt until minced, scraping down the sides of the bowl as needed. Add the asparagus and oil, pulsing until the mixture is coarsely chopped — you're not going for a smooth purée here. Remove the blade from the work bowl, and add the grated cheese. Stir until combined, and season to taste with salt and pepper.
In the same pot of boiling water, cook the penne until al dente. Reserve about 1/3 cup of the pasta water, then drain the pasta. Return the empty pot to the stove over low heat, add the pesto to the pot, then add the drained penne and enough pasta water to create a sauce. Toss well to coat. Taste and season again with salt and pepper as needed.
Serve in shallow bowls, with more grated cheese sprinkled on top.