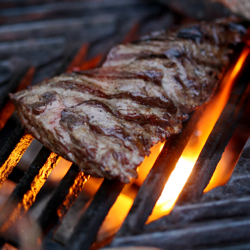 Last week, I went on about how miserably cold and foggy the weather had become. No sooner had I posted than the spell broke, and we traded arctic snap for heatwave. Would a day or two of mild, sunny but breezy weather be too much to ask?
San Francisco proper was mercifully spared the full effects of the heat. But Cameron's office down south was baking so hard that their air-conditioning conked out… at 9am! And friends of ours in Marin set up a kitchen on the back patio when the mercury passed 105°, making indoor cooking unthinkable. But the City stayed pretty mild, rising only to 85° on the hottest day, and cooling to manageable fan-free levels overnight.
In short, it was the perfect time to break out the grill.
Truthfully, we cook outdoors all year round here, even when the weather is grey. Our grill sits right out the back door of our kitchen, on a second-story deck overlooking the neighborhood and the bay beyond. It's a pretty idyllic place to cook dinner, sipping a bottle of Speakeasy ale while gazing out at the view. We don't need a lot of excuses to take our kitchen outside.

And so last week, we found ourselves enjoying one of our favorite summer meals — carne asada tacos — cooked al fresco over a live fire. Dry-rubbed Marin Sun Farms flank steak, quickly seared and folded into Rancho Gordo tortillas, served with homemade salsas made from some of the best summer produce around. (Tomatillos and chiles are back, sweet onions are abundant, rocambole garlic is making its brief appearance, and cilantro is bolting in the garden like there's no tomorrow.)
We bought our first ears of corn this week, too — we always put off that purchase until we're sure we'll be getting high-season, super-ready ears. To give it a Latin flair, we roasted it on the grill and slathered it in chile-spiked crema, a gringo-style riff on a popular Mexican street snack. Truthfully, I think the creamy spread got in the way of the farm-fresh corn flavor — these ears were so fresh they were wet — but I'll definitely make it again to help perk up less-than-perfect specimens, when the season's winding down. It'd be a great way to give supermarket corn a kick, too, I suspect… something we'll be able to test in a few weeks when we head to a family reunion in the Land of No Local Food.
Oh, and since we had the grill on? We roasted some homemade marshmallows and made semi-local s'mores, with Miette graham crackers and Scharffen Berger chocolate.
Ah yes, this summer is shaping up just fine after all.
Grilled Corn with Chile Crema
- adapted from Bon Appetit, August 2007
4 T sour cream
1 tsp fresh lime juice
1/2 tsp red chile powder (ancho, chipotle, etc.)
pinch kosher salt
4 ears of corn, unhusked
3T chopped fresh cilantro (optional)
Preheat a gas or charcoal grill to medium heat. Remove outer husks from corn, leaving inner pale green husks attached. Gently fold back inner husks; remove corn silk. Wipe kernels with a tiny bit of oil, then sprinkle with salt and pepper. Rewrap inner husks, and grill corn until husks are charred and kernels are just heated through.
Pull husks back and place corn on a serving platter. Brush corn with spiced crema and sprinkle with cilantro (if desired).