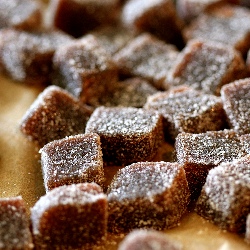 Sweet spirits of niter, did we get plums this year or what? Last year, our little whip of a tree served up a double dozen of the sweetest, tartest, juiciest globes that we could have ever hoped for. This year, that little whip filled out and buried us under an avalanche of purple fruit.
We saw Plumapalooza coming when we had to prop up one of the tree's lower branches. The load of ripening plums bent it into a wicked arch, forcing the tip down so far that it touched the ground. However, it's one thing to gaze admiringly at branchloads of red and purple glory. The reality of harvest is another thing entirely.
Toward the end of June, the very first volunteers hit the ground. Every day, we would gather the fallen and tug gently at likely followers still hanging on the branch. Five a day turned into ten and in a week's time, we were gathering up between fifteen and twenty plums every morning and every night. By the time it was all over, we figured that we reaped 30-40 pounds of fruit.
Which naturally begged the question of precisely what the hell we were going to do with 40 pounds of plums. Finding a solution seemed especially pressing in the early stages of the deluge as we carefully picked yard bark out of drops and sorted the fruit into piles of Perfect, Not-so-perfect and We-love-you-anyway on the countertop. Ultimately, we knew that we would have to turn to preserves or some other solution that involved canning, but we weren't ready to go there just yet.
As I stood in the kitchen one weekend, chain-eating plums and staring at the latest load, Anita reminded me that I had talked about making pâte de fruits before the plums started thumping down. Brilliant! Why didn't I think of that? I checked around and found a few recipes, most of which called for pectin, but Anita sussed out a recipe in the San Francisco Ferry Plaza Farmers Market Cookbook that was nothing but plums, a little lemon juice, and a *lot* of sugar.
My first go at being a candy maker turned out pretty well, but there were some bumps along the road, mostly related to the fact that the recipe instructions about how long to cook the plum/sugar mixture before pouring it into a pan to set didn't match up with my real-world experience: "Cook over low heat, stirring constantly, until the fruit reduces and thickens and begins to hold together as a mass, 20 to 30 minutes."
Obvious, right? Easy? Not for this knucklehead. I stood in front of the stove stirring that pot nonstop for THREE FREAKING HOURS while the contents went from a thin purple soup to a bubbling syrup that I — exhausted and convinced that I had made a fatal error somewhere — finally abandoned to the tender mercies of the candy pan.
On behalf of my fellow kitchen idjits, let's diagnose the sentence that was my nemesis. Cook over a low heat? My friends, it's probably possible to boil a pot of coffee with a Bic lighter, but it's going to take a long damn time, and when you're trying to evaporate a quart or so of liquid, you need something a bit more brisk than low heat. Next time, I'll be less tender with the flame during the early proceedings.
Second lesson: use a comfortable spoon. For reasons that are now unclear to me, I chose a metal spoon for my stirring utensil (Something to do with not staining the wooden spoons? Maybe? I don't know. Leave me alone.). All I know is that after several hours of making like the witches in Macbeth, the unforgiving handle had given me a blister.
Last point: I don't know about you, but when I think of something "holding together as a mass," I expect to be able to haul out a serious hunk of glop when I raise up the spoon. Au contraire, mon frere. My pot full of plum sweetitude thickened to a syrupy consistency and then stopped. I kept at it, though, stirring away like Jamie Oliver on Quaaludes until I smelled the sugar caramelizing and thought to myself, "Self, if you keep going, you're going to end up with plum-flavored Jolly Ranchers. If it ain't done now, it ain't gonna be done."
It was done. After setting, cooling, cutting, and dusting with sugar, the final product was chewy, tart, and had the unmistakable twang of sugar that's had a comfortable and extended acquaintance with the flame. It was good, and the piles of plum candy disappeared more quickly than I would have believed possible, especially when paired in gift bags with Anita's homemade marshmallows.
Plum Candy
- adapted from the San Francisco Ferry Plaza Farmers Market Cookbook
4 pounds plums, pitted and chopped
2 T water
Juice of 1/2 lemon
About 4 cups sugar
In a large, heavy enameled cast-iron or other nonreactive pot, combine the plums, water, and lemon juice. Place over low heat and cook until the fruit is very soft, about 20 minutes.
Remove from the heat. Puree the plum mixture by forcing it through a fine-mesh sieve or food mill fitted with a fine screen held over a bowl. Measure the puree, return it to the pan, and stir in an equal amount of sugar. Cook over low heat (ha!), stirring constantly (ow!), until the fruit reduces and thickens and begins to hold together as a mass, 20 to 30 minutes (bullshit. see above.).
Line a 9-by-12 inch rimmed baking sheet with parchment (the original recipe says plastic wrap, but I was afraid that it would melt) overlapping the edges. Pour the plum paste onto the lined pan and spread into an even sheet with a rubber spatula. Let cool, cover, and allow to stand at room temperature for 48 hours. The paste will become firm.
Invert the pan onto a cutting board, peel off the parchment, and cut the paste into about 36 small squares. Arrange in layers on waxed paper and store in an airtight plastic container at room temperature.