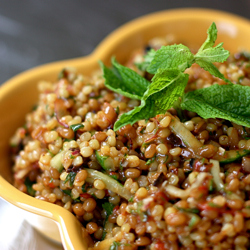 After a whirlwind month of travel, it sure feels good to be home. Even though I was painfully aware of the time we'd spent away from our own kitchen, I hadn't really grasped how long we'd been absent from the farmers market. Despite our well-planned list, we wandered around the Ferry Plaza in a full-blown daze, like tourists who'd never seen produce before. But our farmers seemed genuinely happy to see us, and the usual summer bounty looked more glorious than ever to our newly appreciative eyes.
But somehow — even though we returned home with armloads of the most beautiful food on the planet — our first real meal back home didn't translate into a fabulous feast. The occasional lackluster supper is bad enough when you've put an afternoon of thought and effort into it, but when you're having company over to boot… ugh.
We turned some of our meat CSA haul into homemade sausage using Ruhlman's merguez recipe. The test patties we made tasted fine, but an afternoon of fridge-rest made the coils taste blah, not bright. Somehow a Turkish-style soup of tepary beans and cumin — which I've made before and loved — turned into a stodgy mess.
For dessert, we harvested three beautiful bergamots off our tree to make champagne-citrus sorbet. But when we cut the fruits open, they were nearly all pith. Desperately squeezing them anyway while praying for a food miracle, we got less than half the juice we needed. We punted and bought a replacement carton from Whole Foods, and served it alongside locally made baklava.
But luckily, despite all the other disappointments, our side dishes turned out pretty well. On the grill alongside the mergez, we roasted skewers of multicolored sweet peppers from Quail Hollow and purple onions from Catalan. And even though it looked a bit like leftover hot cereal, a salad of Full Belly Farms wheatberries — dressed with local vegetables and our own garden herbs — was the best thing we ate all night.
Wheatberry Salad
- adapted from Epicurious
1 cup wheatberries
1 red bell pepper
1/4 cup olive oil
2T fresh lemon juice
1T red-wine vinegar
1 tsp ground cumin
2 cloves garlic, minced
2 tsp coarsely ground aleppo pepper (or to taste)
3T minced parsley
3T mint chiffonade
2 ounces feta, diced small
1/2 cup thinly sliced red onion
1/2 English (or other seedless) cucumber, cut into julienne strips
2T to 1/4 cup chopped brine-cured black olives

Soak the wheatberries overnight, or for at least a few hours. Cook the berries in a large pot of boiling salted water until tender but not blown out, about 2 hours. (Depending on freshness, wheat variety, and soaking time, this can take as little as an hour or up to 3 hours.) When cooked, drain the berries and set aside.
Meanwhile, roast the red pepper and place in a brown bag or covered bowl to steam soft, about 20 minutes. When cool enough to handle, remove the skin and seeds, and slice the flesh into long, narrow strips.
In a large bowl, whisk together the olive oil, lemon juice, vinegar, cumin, garlic, aleppo pepper, and salt to taste. Add the cooked wheatberries and stir well to coat; toss in the remaining ingredients. Taste for seasonings and adjust if needed. Serve immediately at room temperature. (You can also refrigerate as needed, but the salad will be stickier. Be sure to remove from the fridge about 30 minutes before serving to take off some of the chill, and toss again to refresh the appearance of the dish.)