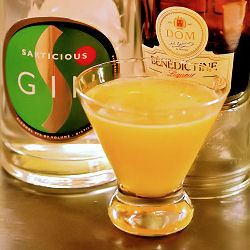 What the heck is up with all that alphabet soup in the title?
First, there's DOTW: Drink of the Week, our regular Friday diversion into the world of mixed drinks.
And then there's MxMo: Mixology Monday, the monthly cocktail event created by Paul Clarke. This session's topic, Gin, is hosted (appropriately enough) by an Englishman: Jay of Oh Gosh.
DOM, though: It's a bit of a mystery, innit? Somewhere in the depths of cocktailian history, some wiseacre decided to spread the rumor that these three letters on the label of every bottle of Benedictine stood for Dominican Order of Monks. Which is kind of ridiculous if you have even the most cursory knowledge of religious orders. For those of you without the benefit of a parochial school education, Benedictines and Dominicans are two different brotherhoods.
The whole Dominican business is one of those bits of cocktail lore that you see debunked in plenty of places. DOM, as our good Professor Embury correctly defines, is an abbreviation for the Latin phrase Deo Optimo Maximo: "To God, the best, the greatest" — a prayer on every bottle that those clever monks sent out into the sinful world.
Rather tidily, there's a cocktail of the very same name that's a perfect fit both for MxMo XXI and RotLC #2 (which I'm happy to announce has popped up over on The Spirit World this morning).
The DOM
1-1/2 oz dry gin
1/2 oz Benedictine
1/2 oz fresh orange juice
Shake all ingredients, and strain into a chilled cocktail glass.
As written, I found the DOM lacking a certain something. A splash of orange bitters brought out the Benedictine's citrus and vanilla notes; Cameron pronounced it Creamsicle-esque, although not as sweet. Aromatic bitters highlight the gin's bite and the liqueur's spicy overtones — a better match, methinks. Should you find yourself in possession of a Meyer lemon, its juice makes lovely substitution for some, or all, of the OJ.