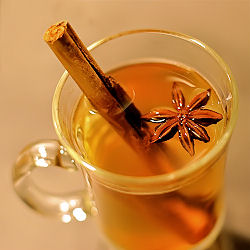 The fall that Cameron and I started dating was a brutal season. Everyone we knew seemed to have one of those colds that catches you in its grip and refuses to let go. The sound of coughing and sneezing was everywhere, and it seemed like the whole city of San Francisco had a red nose and bags under its eyes.
That was the first time — though certainly not the last — that I heard Cameron describe his favorite cold remedy, the Two-Hat Cure: "Grab a bottle of whiskey and put your hat at the foot of the bed. Get into bed, pile the blankets high, and take a good long pull of whiskey. Keep drinking until you see two hats." It may not cure your cold, exactly, but you definitely won't care.
In all seriousness, medical experts tell us to exercise caution when drinking while under the weather: Alcohol can dehydrate your already overtaxed system, and many over-the-counter medications are downright dangerous with booze. But even our grandmothers knew that there's definitely a time and a place for the medicinal powers of whiskey. Especially when combined with sugar or honey, it has the power to calm coughs and soothe raspy throats. Adding warm water or juice helps adjust for the dehydration factor and alleviate sinus congestion. And its sedative effects can give over-exhausted bodies the push they need to get some much-needed Z's.
In short, a Hot Toddy is just the ticket when you're feeling under the weather. It's one of those highly adaptable recipes — CocktailDB alone lists more than 20 variations — but nearly every Toddy follows a simple formula: Combine a shot of (usually brown) liquor and a sweetener (sugar, honey); fill the glass with warm water (or cider, juice, etc.), and garnish with complementary aromatics; traditional choices include lemon wedges, orange peel, and warm spices like cinnamon, nutmeg, or cloves. The less-commonly-seen cold toddy follows the same basic model, but is served in a rocks glass over ice.

While spending the last two-plus weeks battling a world-class cold and its aftereffects — and in the spirit of month's edition of Mixology Monday hosted by the fine Mr. Patrick at Jimmy's Cocktail Hour — I've been exploring a number of variations in the key of Toddy. I started with bourbon, honey, and orange peel; I sampled brandy, lemon juice, and sugar; I tried rum with brown sugar, cloves, and nutmeg. But my favorite flavor combo includes a strong slug of 100-proof applejack, sweetened with unbleached sugar cubes and garnished with a stick of Mexican cinnamon and star anise. After all, if an apple a day keeps the doctor away, I'm all for it.
Hot Apple Toddy
1oz to 2oz applejack (or brandy, whiskey, etc.)
1 to 2 natural sugarcubes
hot water
Garnishes: cinnamon stick (preferrably Mexican canela), star anise, or other warm spices; lemon wedge, apple slice, orange peel, etc.
Place the sugar and applejack in the bottom of an Irish coffee mug. Add hot water to fill, stir to dissolve sugar, and garnish as desired.