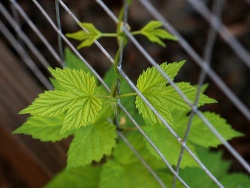 Okay, honest, I never intended for this garden tour to become a summer-long thing. I started in June, figured that I'd post a few times and be done by early July. Now here it is August already. Where do the days go?
For those of you just joining us, this is the third installment of a tour of our backyard, which we reclaimed from ugly ignominy just over a year ago. In our last episode, we braved the Northside Fruit Preserve and the Eastern Wall. What adventures lie ahead?
On the south side of the yard, we see the fence that separates the garden from the dog run. Until mid-June, it was blanketed in passion fruit vines that seemed like a good idea when we planted them. However, "fast-growing and aggressive" does not begin to describe these guys. After only a single year, two plants completely covered a 25-foot fence and needed to be trimmed practically every day. After being grimly and colorfully assured that we hadn't seen anything yet, we decided to eliminate the vines before they ate one of the dogs.
However, we're not sure that we haven't forsaken the frying pan for the fire. In the place of the passion fruit, we installed four Golden hop vines purchased from the farmer's market. We've always wanted to grow hops, but have never had the motivation, garden space, season, and rhizomes come together at the same time. Planted in late June, the hops have already enthusiastically twined through the fence and are waving feelers around above the rail line. But for some reason, I feel more kindly toward these particular fast-growing, aggressive vines than I did the passion fruit.
Theoretically we could use the hop flowers to make beer, but it's more likely that we'll take the advice a passerby at the market gave us as we were buying the plants. Apparently, hop-shoot risotto is a done thing in some parts of Italy (and elsewhere?). If you have any recipes, please share!
In front of the south fence, we have line of herbs (two thyme plants, one oregano, and one sage plant) that define the most serious, working part of our garden. We're down there clipping fresh bits for cooking at least once a week. Our herb crew has battled through adversity: the oregano fell prey to a mite infestation last year, and our original variegated sage plant died shortly after it was planted. But the oregano has come bounding back, and we recently replaced the sage. Everything is growing like gangbusters, especially the thyme.
The fact is, "growing like gangbusters" describes everything that we've put in — a state of affairs that I attribute to the gentle microclimate that favors our patch. When we originally planned the yard, I chose plants that would produce food, but that wouldn't require much tending. But now, flushed with success, I've found myself contemplating a true vegetable garden. A small one, mind you.
In the meantime, the sun is out, and there's a chair on the patio near the magnolia with a good book and a tall, cool glass of something refreshing waiting for me.