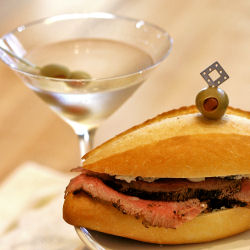 A big shout out to Natalie over at The Liquid Muse for choosing food/cocktail pairings as the Mixology Monday topic for October. My proposal for a decadent lunch (or bachelor's dinner) is a steak and bleu cheese sandwich paired with an ice-cold Martini — one of my all-time favorite combinations.
This is no tame, civilized snack. The sandwich should be rough and ready. You'll need slices of cold beef left over from the loud debauchery at the grill Saturday night; a good, chewy roll; a wedge of bleu; plus a spreading knife and the guts to use it.
No lettuce. No mayonnaise. No mustard.
This particular Martini you want to be rippingly cold and (to borrow a winning concept from The Art of the Bar) made with Atomic Age proportions of gin and vermouth. Skip the orange bitters; you've already got a lot of flavors coming together.
Consume while watching a sporting match, taking in an action flick, or plotting your next corporate takeover.
Steak and Bleu Sandwich
Cold sliced steak
Bleu cheese at room temperature
Chewy sandwich roll
Slice open roll. Spread several healthy swipes of bleu cheese on both halves. Layer bottom half with steak slices, and top with the other half. Eat.

Atomic-Age Martini
2 oz gin
1/2 oz (or less) dry vermouth
Combine ingredients in an ice-filled mixing glass. Stir until icy cold. Strain into a chilled cocktail glass, and garnish with an olive or two.