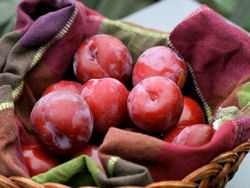 All spring, we watched the stone fruit come in at the Ferry Plaza farmers market. This year I noticed the cherries first, followed by peaches and what seems like a ridiculous bumper crop of apricots. Meanwhile, our young Santa Rosa plum tree poked lazily through its growth cycle. Flowers came and went, followed by small green globes that grew slowly and eventually blushed yellow.
Looking back, I had a very funny reaction. Even as the fruit passed through red on their way to purple, I didn't think, "Those will be ready to eat soon." Instead, I marveled at how impossibly bright they seemed and wondered if there was any way to capture the ghostly neon luminescence with a camera. The branches of our bergamot and lemon trees had been bare for so long that fruit was something that we bought at the Ferry Plaza. I had unwittingly come to see our own plum tree as a pretty abstraction.
Then I walked out into the yard last week and found that a plum had dropped to the ground. I didn't think too much of it. The plum didn't really look ripe and it felt a bit hard, but it did smell good. I took it up to the kitchen and called Anita to look. We took a few pictures, and then I cut into the fruit with a small knife and everything changed.
The juice ran out over the blade of the knife and my hand and dripped on the floor. Startled, I moved over to the sink, finished cutting a wedge, and ate it. The flesh was sweet, and tart near the skin, and it was as juicy and wonderful as any plum that I had ever eaten. Anita and I shared the rest of the plum through big goofy smiles. This was what we had to look forward to. We had loved our tree and it was becoming real.
The next day, there were more drops. I gathered three, and then a fourth and a fifth. Cradling them against my chest, I reached up and pulled gently on another likely candidate. It whispered free into my hand. I ran upstairs, deposited my load and returned with a bowl, circling the tree and tugging gently on the ripe fruit, until I had 13 in all.
We never thought that we'd eat them all before they went soft — we don't usually keep fresh fruit for snacking. But these little devils are scandalously fragrant and once I smell one, I have to eat it. Anita has plucked more while I'm traveling in NYC, and we'll soon have enough for a batch of brandied plums.
I still can't believe that we're growing fruit in our back yard. I left town on Sunday, but Saturday morning we were at the market as usual. I stopped at one of the stalls where we'd bought peaches, picked up one of their Santa Rosa plums, sniffed it, and then tasted a sample wedge. It was good. I like mine better.