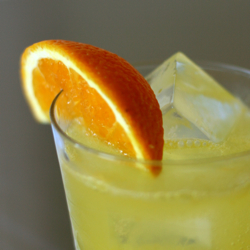 The folks at The Spirit World sure picked a doozy for the inaugural episode of their "Raiders of the Lost Cocktail" challenge. I spent many evenings thumbing through my bar library, searching for recipes featuring Liquore Strega, and found precisely one mention of this saffron-tinted herbal liqueur.
Excitement quickly turned to despair as I noted the drink's name: The Strega-nator.
Oh, please. Spirits snob that I am, I didn't give it so much as a second glance. There's no way in hell I am making a drink called the Strega-nator, much less putting it on the blog. I'd never be able to show my face at Mixology Monday again! I headed back to the drawing board, muttering under my breath about slapped-together cocktails with frat-boy names, cursing the editors who foist them on their unsuspecting readers.
Next, I hit the public library. Even among dozens of titles both old and new, I didn't uncover many options. My curiosity was piqued, though, by a UK-published book that suggested mixing Strega with Orange Smash Squash. I consulted our City's guru of British comestibles, who promptly dashed my hopes again. Orange Squash was nothing short of "putrid" said Sam: "I wouldn't trust anyone who suggests you put it in a cocktail." (After having personally sampled it — I found a bottle in the British foods section at Mollie Stone's — I'm inclined to agree. It's something like the bastard stepchild of SunnyD and Hi-C Orange, neither of which has any place in my kitchen, much less my bar.)
Once you've sunk to the depths of imported kiddie-colored juice substitutes, there's nowhere to go but up. Having all the necessary ingredients on hand, I grudgingly gave the Strega-nator a whirl. And damned if it wasn't tasty. Especially considering that it has no base liquor as its spine, it's a fine drink. Well-balanced, nuanced, perhaps a tad sweet for my taste, but the herbal finish is quite bewitching. After much hand-wringing, I came to the realization that we'd all lived through one Drink of the Week with a god-awful name; why not make it a pair?
Unfortunately, I can't imagine that a cocktail recipe published 18 months ago could really be considered "lost" for the purposes of the challenge. (Unless, of course, everyone else took one look at the name and flipped right past it, too — a distinct possibility.) I've got a few tricks up my sleeve, plus a full bottle of Strega and enough time before the challenge ends; there just might be another entry in the works.
As Arnold would say: "I'll be back."





Strega-nator
- published in Food & Wine Cocktails 2006
credited to BLT Prime, New York City
2 oz Strega
1 oz fresh orange juice
1 oz fresh lime juice
2 oz chilled club soda
1 orange wedge, for garnish
Fill a cocktail shaker with ice. Add the Strega and juices, and shake well. Strain into an ice-filled rocks glass, and top with club soda. Garnish with the orange wedge.